Marketers of the Year: Bringing soup strategy to a boil
Moya Brown is helping Campbell's fight for share by unifying the company's departments and brands.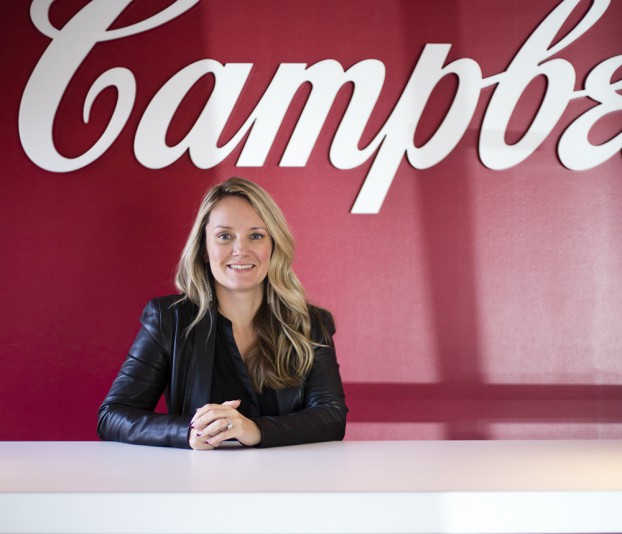 We're rolling out our Marketer of the Year profiles, diving into how six change agents each set new agendas for their teams, and came out swinging with a year's worth of success. Check back here for more later this week and next.
This article appears in the January/February 2017 issue of strategy.
It probably wouldn't surprise anyone to learn that Moya Brown has a pair of Converse sneakers adorned with Andy Warhol's iconic Campbell's Soup Cans art. The limited edition shoes quickly sold out in 2015, but Brown made sure she got a pair because, as VP of marketing at Campbell's, she likes to walk the branding walk.
What might be a surprise though, is the broader problem those sneakers represent to Brown, who took the marketing helm at the food company in 2014.
"Historically, we've done a wonderful job connecting with [consumers] and achieving [household] penetration," she says. "Many people remember growing up with Campbell's. We noticed newer generations still had really warm feelings about the brand, but they weren't buying it. [The Andy Warhol sneakers] sold out in Toronto – but the same people who were wearing them weren't actually eating our soup. It was a huge disconnect."
So while the brand enjoys its status as one of the most trusted and reputable brands (according to Brandspark and Google, respectively), and is far and away the most popular soup company in Canada (controlling upwards of 60% of the market, according to research firm Euromonitor), it has still seen its overall sales decline in recent years.
Campbell's isn't alone in its woes, of course. Driven by a demand for healthier and fresher food options, the packaged food space has seen a consistent decline in sales over the past 10 years. Soup in particular saw a 1% decrease in sales and volume in 2016, according to a recent report from Euromonitor.
But despite the broader industry challenges, Campbell's has set itself ahead of the pack – and under Brown's leadership, it might be starting to turn the tides.
In the past year, the company has released a new masterbrand for its iconic soup line, doubled down on product innovation (focused largely on stripping out artificial flavours from its products) and rejigged its marketing team to facilitate a more integrated message across all platforms, she says. And it's working, with soups in particular seeing steady growth, even while the rest of the category struggles.
While the company juggled its new corporate-wide philosophy ("Real food for real moments") to address the shifting consumer desire away from packaged foods, Brown was also rolling out a new approach to her marketing team. One of the first things she did upon assuming the lead of the 25-person department was to rejig its structure.
The company has long had separate teams for consumer and shopper marketing. The two worked together on an ad-hoc basis, she says, resulting in inconsistencies across brands.
"We would have a mass campaign around soup that would have a message around sodium, and we didn't really have integration into what that communication was to the shopper – it might have been more tactically focused or had a different message entirely," she says. "But [consumers] are inundated with so many messages. To really engage in the way we want, we need to be very focused, with a clear, single-minded message in order to cut through and maximize reach."
Whereas teams might have previously operated with different end objectives (increasing same-store sales versus brand awareness, for example), within the past year, all teams have been tasked with the same internal performance goals shared across the department.
While they do vary between departments and brands, the overall goals are much more unified now. "That was a big change," Brown says, adding that this creates a cohesiveness that is now starting to come out in the brand's marketing.
This shift is coupled with a deeper push to get stronger consumer insights, she adds, increasing the company-wide investment into its insights and research team. While the size of the team has stayed the same, Brown says Campbell's is working more with retailers and building out a bigger source of data sets – including loyalty information (from the retailers) as well as syndicated data from sources like Nielsen.
For example, the company rolled out A/B testing at retailers to determine what type of messaging worked when trying to reach consumers. She points to one test in which retailers in Western Canada received a different POS system for the brand's cooking line than those in Ontario. One version highlighted Campbell's cooking soups as a cost-effective way to make dinner, while the other emphasized how much time people could save.
The theory, Brown says, was that the time-saving message would resonate regardless of what type of store they shopped at. In the end, however, she says the store banner did matter, with the time-saving POS working more effectively at certain locations. This smaller activation is helping to shape the brand's broader messaging.
The rejigged marketing approach, paired with the deeper commitment to insights, has set the company up for success going forward, she says, pointing to the recent "Great for Cooking" campaign as a prime example of what the new structure is producing.
Launched this summer, the campaign aims to differentiate between condensed soup for eating and condensed soup for cooking. Both lines got a simplified packaging facelift from Shikatani Lacroix, differentiated through the use of colour: white label for soups to eat, black for soups to cook with. In-store POS drives to a recipe website, where consumers can find easy recipes, highlighting how each part of a meal can be complemented (or cooked) with the soups.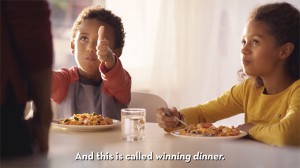 In October, the brand released a new "Win Dinner" spot by DDB to support the campaign. Targeting moms, the commercial shows off delectable dinners, highlighting Campbell's soups as a core ingredient and how easy it is to "win" the meal. Though the campaign only launched recently – and it's still too early for results – Brown says initial metrics are positive.

"Win Dinner" and the soup-for-cooking push fits into the broader masterbrand campaign, "We All Soup," developed by Taxi in 2015.

The masterbrand push is based on the insight that soup is a dish shared across most cultures, and is therefore something we can all connect around. As a meal, it can't be rushed (and thus is a way of getting everyone to sit around and relax), and as an ingredient, soup and broth make up the base of many popular dishes.

The original push was built around the homemade soup kits (which provided the ingredients, but left the actual soup creation to consumers), while the promotion of real flavours (with no artificial ingredients) was a central tenant of the campaign. The end goal, of course, was to connect with consumers – particularly millennials – who were moving away from processed foods.

Carrying through that more cohesive approach to marketing, "We All Soup" was brought through all consumer touch points (particularly the real ingredients message in stores), while experiential campaigns, such as the follow-up "Cantina" push built on the message of bringing people together through that shared sense of belonging.

In February, the brand invited chef Matt Dean Pettit to brew some culturally inspired soups in a downtown Toronto pop-up shop (all using Campbell's ingredients) while also collecting cans for a nearby soup kitchen.

More than 65,000 samples were dished out and the brand pulled in 16.5 million media impressions. Since the launch of "We All Soup," Brown adds the brand is growing in share and sales, though she wouldn't specify by how much.

She attributes much of that growth to the shift toward ingredients with roots. While the company has rolled out its "Real food for life moments" philosophy, the marketing team has been busy reformulating its products to remove so-called "not real" foods.

In particular, she points to the recent V8 energy drink launch, which rolled out in September, as an example of how that philosophy is manifesting itself in all aspects of the company. While the energy drink was developed in the U.S. (where most of the product development for the drinks line is managed), the Canadian team had to reformulate the product, this time using green tea, to strip out the artificial flavours (as well as meet Health Canada guidelines). It's too early for results, but Brown says she's happy with the way the product is trending.

Going forward, she says the key will be to move faster in getting messaging out to consumers.

"I have a huge [sense of] urgency to get out in the Canadian marketplace and say and do more," she says. "We're not the only ones that have recognized what consumers want. There are a lot of companies out there in the same territory. But, like anything in marketing, there's a huge advantage when you are first to communicate."

To help address that, Brown set up a communication centre of excellence within the marketing team, bringing in staff with expertise in different types of social media.

"The landscape is constantly changing," she says. "To get everyone up to speed, while also managing their own jobs, would take too long. This is the most expeditious approach."

And Brown is pretty pleased with her marketing team moving quicker and being bolder, she says. "Campbell's historically is a humble company," she says. "We're reluctant to be bold and aggressive, and it's a challenge to break out of that. But I know we have a lot of great things to say."