VH Sauces goes big for Chinese New Year
How the ConAgra brand has evolved its "hero season" program to be more omnichannel and target millennials.
ConAgra Brands is continuing to go big with VH Sauces during its annual Chinese New Year-centred marketing program, upping its focus on omnichannel while still aiming to capture (evermore fleeting) shopper attention in store.
Chinese New Year (which takes place on Jan. 28 this year) has long been a "hero season" for the VH brand, driving much of its sales volume each year, says Ryan Fowler, senior brand manager, grocery at ConAgra.
This year, however, it's increased the breadth of its displays nationally, also kicking off its out-of-store marketing ahead of the winter shopper marketing push.
The brand has traditionally had large-scale displays in some grocery retailers, particularly in Quebec, a core market, Fowler says. However, it's since expanded the number of those displays to more stores nationally, including using eye-catching canopies with reflective material to draw shopper attention.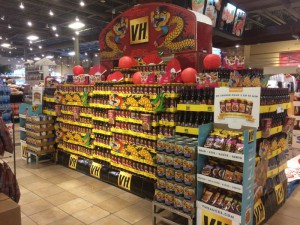 Those large-scale displays also allow for adjacencies with staples such as rice and produce to help boost basket size for retailers, Fowler says.

In-store, choice in product is overwhelming, leading to a major challenge for brands who want to capture attention, says Marc Bourgeois, managing director at OSL Marketing Group, which leads VH's shopper marketing.

While consumers face roughly 100,000 SKUs in a typical supermarket, they only have a repertoire of about 300 that they purchase regularly, Bourgeois says. That meant having large displays that can be seen across aisles was particularly important.

This year, a key difference for VH was also boosting its mass support ahead of the key in-store season much earlier, Fowler says. Last fall, it debuted two advertising campaigns led by Extreme Group (now Arrivals + Departures) on creative and Jungle Media on media.

The first, centred on "Another clean plate victory," targeted moms who often struggle with dinner ideas. The second focused on VH's pouches, a new packaging format introduced last year to appeal to smaller millennial households. Those pouches are now also part of its Chinese New Year shopper marketing displays as the brand seeks to target millennials in-store (some in-store displays also include recipe booklets and coupon offers).

As the Chinese New Year program has evolved, VH's omnichannel approach has also grown, including increasing its presence on digital and social media, Fowler says (Facebook is a key channel for the brand and it recently launched on Instagram as well).

The brand is also continuing to leverage its website, bolstered by Chinese New Year-centred recipe content, and is seeing positive results in terms of new visitors and engagement levels, Fowler says.

He adds that ConAgra is also focused on ensuring its products are available through key ecommerce platforms, including Grocery Gateway, Walmart's click-and-collect offering and Amazon.