RBC looks beyond financial gain
A new global brand promise for the bank's Wealth Management group shows the social impact of strong planning.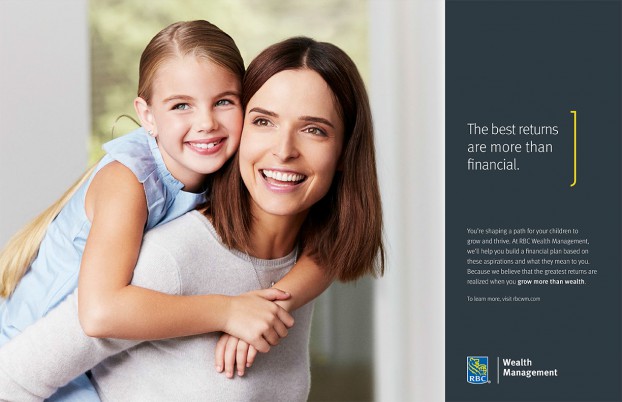 RBC Wealth Management has launched a new global brand promise to speak to the broader needs of clients and tap into insights of a changing target.
As part of the new "Grow More Than Wealth" platform, the brand is focusing more on the results RBC's investing services can help clients earn beyond simple financial gain, like supporting a family, having a healthy retirement or pursing new business ventures.
The global campaign was developed by Huge out of its Toronto and Brooklyn offices.
RBC Wealth Management's previous brand platform was "There's Wealth In Our Approach," which was meant to help establish the bank's strength in the investment space on a global scale. Rebecca Mooney, VP and head of brand and marketing at RBC Wealth Management, says that is still an important goal, but the new campaign taps more into the insight that clients are increasingly looking for something beyond a monetary return when it comes to their investments.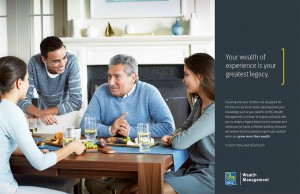 "There's an expectation that wealth will help them lead purposeful and fulfilling lives, so what they're looking for is a blend of financial returns and social outcomes," she says. "With this new brand promise, we wanted to create value beyond just financial returns. That's also making an emotional connection with our clients, and it helps to highlight the ability we have to help clients with their wealth planning needs and achieve whatever is most important to them."
In December 2015, RBC Wealth Management launched a new website and branding that was more in line with the blue-and-gold shield used in the bank's other lines of business. While the new brand platform is specific to Wealth Management, it also fits with the positioning the broader RBC organization has been cultivating over the years.
"Clients today care about the companies they work with and they want those to be companies they trust and have a social interest," Mooney says. "People are choosing to support organizations that are aligned with their own values, and for our clients that meant there's an expectation that their wealth can contribute more to their lives and communities. RBC has a reputation for integrity and a commitment to giving back to communities and helping them thrive."
The insight driving the new platform is a global one, and Mooney says that as a global campaign, the new brand promise not only needs to connect with Canadians who are familiar with RBC, but with consumers in other markets where the brand is less established, particularly in Asia. She adds that while it fits with what Canadians already know about RBC, hearing the brand story for the first time is a compelling thing for consumers in other markets.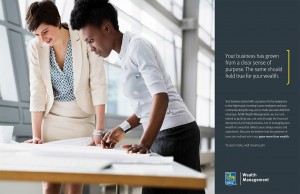 The campaign is living through digital and highly selective out-of-home placements, which Mooney says is to be more targeted in the high net worth audience it is speaking to. For example, the OOH ads have been placed in airports to reach business travelers. However, she adds that the definition of "high net worth individual" has evolved over the years.

"It's not going to be on every street corner because it's a very targeted segment we're going after," she says. "But it's stretching beyond what used to be the traditional high net worth category, which tended to be men over 50. Part of why we chose this new direction for the brand was to be more appealing to a broader set of audiences, like women and millennials, who tend to place more value in these kinds of things."