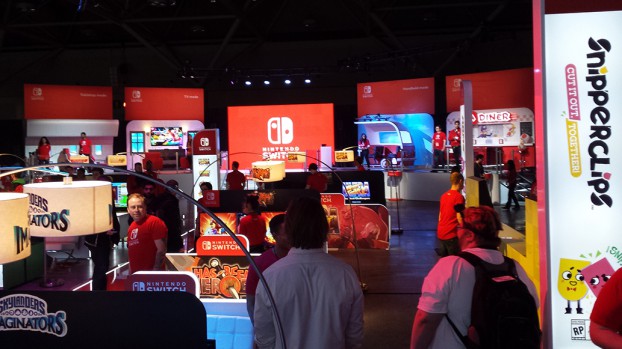 Nintendo has begun the buzz for its new console – the Nintendo Switch – with "the Nintendo Switch Preview Tour," hoping to educate gamers about its range of gameplay possibilities through its familiar and iconic franchises.
The tour began in New York on Jan. 13 and came to Toronto last weekend. Fans, press and influencers who visited the 10,000 square foot space were able to play the console's from brand new launch titles for dedicated fans to party games and retro-style remakes for casual or nostalgic gamers.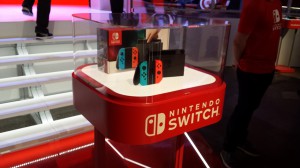 At the core of the Switch is its many different gameplay formats that attempt to create a seamless experience between home and mobile gaming, and the different settings at the event were meant to show them off. An area featuring the new Legend of Zelda: Breath of the Wild had players start by playing with a traditional video game controller, before taking the tablet-sized console unit out of its dock and experiencing the exact same gaming experience in a handheld format.
A mock airplane seat, meanwhile, showed how the two "Joy-Con" controllers can be detached from the console and play games like Mario Kart wirelessly while the portable high-definition screen sits on the tray table. A cafe setting allowed players to connect their consoles for multiplayer gaming. A living room showed how the two Joy-Con controllers – usually paired together – could be used as individual controllers to play retro-style games like Ultra Street Fighter II and Sonic Mania.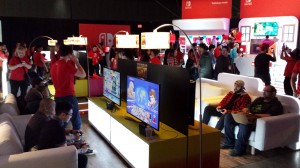 "Because of [the Nintendo Switch's] uniqueness, we knew that we needed to give consumers an opportunity to experience the system first-hand," says John Azevedo, head of marketing for Nintendo Canada, adding that further experiential events are being planned for other cities. "Although we as a company don't focus on communicating technical specs, there is work to be done to communicate the unique capabilities of the system. With Nintendo Switch, that means showing all the different ways and places you can play."
The tour event was handled by experiential agency Inventa alongside public relations agencies Craft PR (in English Canada) and Julie Gagnon Communications (in Quebec). As the March 3 release date for the Switch gets closer, Nintendo will launch a national campaign in TV, digital and OOH with a local PR push. ZenithOptimedia is handling the media buy and Vancouver's We The Collective is handling local digital and creative executions.
Nintendo will also air a Super Bowl spot that focuses on The Legend of Zelda: Breath of the Wild created by Leo Burnett Chicago in Quebec on RDS this Sunday. Another marketing push will come late in 2017, heading into the holiday season. Azevedo says one of the main differences when it comes to Canadian consumers is that they appreciate local, unique content, and the company is looking for more local programs to pursue.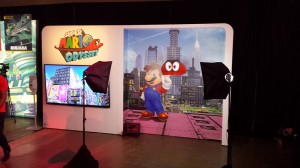 The tour event also featured photo booth-style settings where fans could take photos with iconic things from Nintendo games. While previous consoles like the Wii saw the company corner the market on more casual, family-friendly group video game experiences, core franchises it develops itself like Mario and The Legend of Zelda are still a big part of the Nintendo brand and keep up the appeal for more dedicated gaming enthusiasts.
"That offers an interesting challenge for us," Azevedo says. "Telling the story of this system to these two distinct audiences who are interested in different experiences, and make their entertainment decisions in very different ways." That's part of the reason why the tour was equally focused on these established video game franchises, using them to exemplify the many ways people could play with friends and family.