Mott's mixes up the Caesar
A new Clamato product targets at-home bartenders as the brand continues its innovation strategy.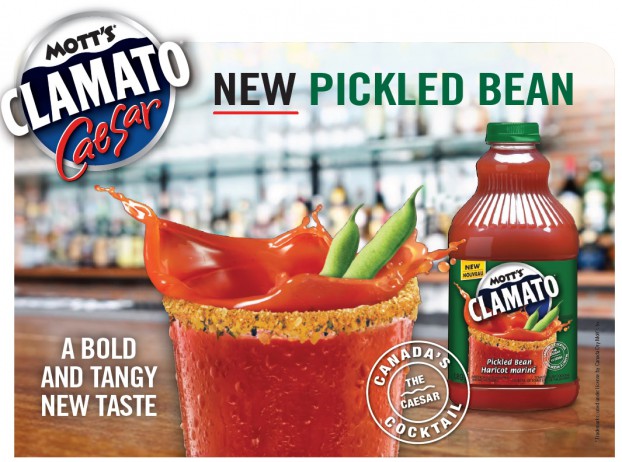 Canada Dry Mott's has added to its product portfolio, hoping to capture Caesar-lovers' attention with a new mix.
Mott's Clamato Pickled Bean launched across Canada in January, driven by research that suggested the pickled bean was the second most popular garnish for a Caesar, next to celery sticks.
Mott's has been working on innovating classic cocktails according to Cameron Butt, brand marketing manager with Canada Dry Mott's, citing the it launch of Mott's Clamato Lime in 2015. It's now looking to capitalize on the popularity of pickled bean Caesars in bars and restaurants and wants consumers to bring those ingredients into their homes, he says.
The positioning of Pickled Bean being perfect for at-home bartenders is at the core of the supporting campaign, which includes a 30-second TV spot created by DentsuBos and is running in English and French. The campaign also puts emphasis on the bold and tangy taste of the product and emphasizes the Clamato brand's near 50-year history to a broad audience (the brand says that 400 million Mott's Clamato Caesars were served in 2016).
The TV spot will be supported by a Facebook campaign and other social media, in-store materials (led by Black Rock Marketing) and PR efforts led by Craft Public Relations. The brand worked with Mindshare on media.
That included a Super Bowl-related PR promotion (with last Sunday's game making the first major social occasion since the new product launched), partnering with Boston Pizza's chief mixologist Nick Nemeth to create two Caesars inspired by the opposing teams – "The Clam and the Patriot" and "Hotlanta."