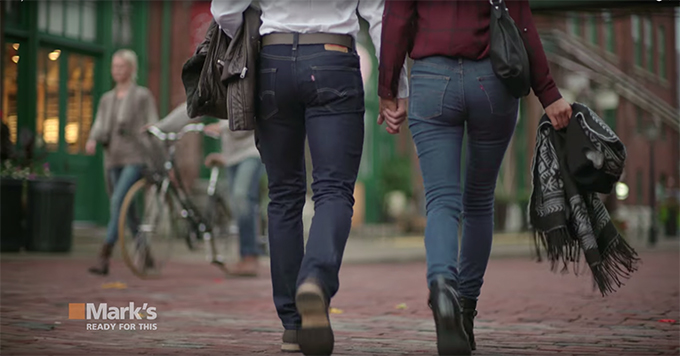 This article appears in the March/April 2017 issue of strategy.
Mark Blumes was unpractised at biting his tongue. He couldn't do it in the late 1970s, when he was managing the bargain basement section in the Calgary Hudson's Bay and felt the corporation wasn't catering to the city's blue-collar core. He got himself fired as a result and put his severance toward his own store where he could do things his way, creating a haven for the working man.
Forty years later, that store is a retail behemoth. After dropping the "Work Wearhouse" in a 2010 rebranding by McCann, Mark's has 380 locations across the country and stands as an unrivalled depot for industrial and casual men's wear.
The company's namesake isn't around for the 40th anniversary, though. Blumes's divisive approach saw him pushed out in 1995 ("I created the reasons why I'm no longer there, by my lack of charm," he told the Financial Post in 2001) and nearly bankrupt by the time Canadian Tire acquired Mark's in 2001 for $116 million (he didn't see a penny). He died the following year.
But the occasionally coarse founder, known for speaking his mind with a cigar hanging out of his mouth, left his mark. The store's product innovation, omnichannel approach and blend of private-label and name brands are all legacies of Blumes.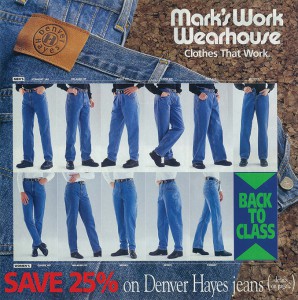 The first Work Wearhouse opened in Calgary in 1977. Launched at the height of Alberta's oil boom, the new stop for rugged apparel was an instant hit: Blumes grew the business to more than 40 stores by 1981.
Steve Bottoms worked with Blumes at HBC as a student, and would later join Mark's Work Wearhouse as head of in-house creative agency Cooper Hayes before working on the brand's account for two decades as CEO of Calgary's Watermark Advertising Design.
"He was a genius, a bit of a mentor … an outrageous human being – the opposite of political correctness," Bottoms says of Blumes. "But he had this big, big heart and this intense admiration and respect for the working guy. His love for the customer was so profound in comparison to the operational efficiency of the department store at the time."
This original commitment to the blue-collar worker was tested early. The company's expansion was perhaps too much too soon. It took on debt, leading it to go public in 1981 to raise money. Later that year, Alberta entered a recession, with unemployment reaching 11% as interest rates and inflation also rose. The working man suddenly wasn't as desperate for new gear, and the store had to look beyond its base.
Rick White, who took over as Mark's president last year, remembers how Calgary "basically shut down." The company learned early that it would have to attract a larger demographic "in order to stabilize the business and not be held to the whims of what was happening in the oil patch and in the industrial world," he says, a branding shift Mark's is still undergoing today.
It met with some resistance as it tried to attract casual wear name brands, though. Some were reluctant to partner with a retailer called "Work Wearhouse," not seeing it as the best place to position their products. "It forced us to go the route of the private label," says VP of innovation, industrial and footwear Iain Summers, who has been with the retailer for 31 years.
Denver Hayes and Wind River were born, offering quality products exclusive to Mark's. "That's been our concept right from the start," Summers says. "Innovation" became a buzzword decades later, but Mark's started early. In the mid-1980s, the store offered non-shrinking flannel. The whole back page of a flyer told the story of how its buyers had searched the world for the material, which it found in Russia, Summers says.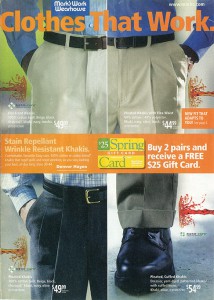 Wrinkle-resistant khakis followed. A 1994 TV spot by Watermark put Denver Hayes against Dockers. A blindfolded woman compares the fabric on two men's seemingly identical khakis before choosing the one she prefers: Denver Hayes, priced $10 below its competitor.
Another one from 1996 showed a blond woman in a black dress with a stopwatch in each hand, timing how long it takes two men in their underwear to get ready for a date: one with Denver Hayes wrinkle-resistant cotton pants, ready to throw on straight out of the dryer, one with another brand. "Other cotton pants can put a wrinkle in your plans," she says, before heading off arm-in-arm with the Denver Hayes man.
Some innovations didn't take off. "Pop-bottle jeans" in the early '90s, made by reweaving the polyester from pop bottles into denim, failed to connect with consumers. "We were too far ahead for the customer to grasp it," Summers says. "The whole environmental movement hadn't kicked in."
It wasn't the last time Blumes, whom Summers hailed as "an idea guy," was perhaps correct but early – a small consolation in the business world. By the mid-'90s, long before e-commerce had any traction, Blumes was convinced that retail was going omnichannel.
"He saw the future. He just saw it too early and he saw it too aggressively," Bottoms says. "He made it a bit of a Waterloo moment, where he pushed himself to the edge and forced the board to either go his way or push him out." They chose the latter option.
Perhaps more than a battle over e-commerce, the move marked a release in tension over the store's direction. In a 2001 interview with the Financial Post, Blumes said, "This will sound self-serving, but my role was to protect the interests of the working man. The company went margin crazy. You can't make the same margins selling work wear as you can selling ladies sweaters."
The founder who had always catered to the blue-collar worker – he had even produced a country song in 1986 called "The Oil Patch and Me" – was gone, paving the way for more dramatic changes.
Mark's bought competitor Work World in 1996, but the most significant moment came in 2001, when Canadian Tire purchased the company and its 325 stores. It was a natural fit: "It's the same customer base and Canadian Tire didn't do apparel in a big way," White says.
A gradual shift in the nature of work had already been impacting the retailer. A decade of globalization meant fewer blue-collar jobs and less demand for work wear. Office clothing was also changing: casual Friday was colonizing the entire week, allowing Mark's to pitch its innovative articles – wrinkle-resistant pants and shirts, stain-repellent khakis – to a broader segment.
"If you could get away with not wearing a tie to work, that fed into our wheelhouse," Bottoms says.
And while the brand started selling women's clothing in 1995, it didn't start marketing it heavily until almost 10 years later. This picked up again in 2012 with a campaign using the tagline "Now welcoming women."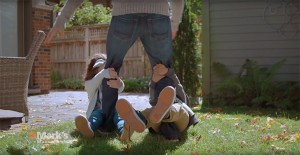 All these developments laid the groundwork for the most dramatic moment in the brand's evolution from blue-collar hub to top casual wear destination. In 2010, it dropped the "Work Wearhouse," rebranding as Mark's. It was time for younger Canadians to perceive it as more than "their dad's store," White says, and for the retailer to move from its reliable "Triple R" demographic (retired, reluctant to shop and reluctant to replace) to the "Triple C" (confident, casual Canadian) in the 30-to-50 range.
Customer research leading up to the rebranding showed the clothing and footwear industry valued at $24 billion in Canada, compared to $600 million for work wear and work footwear.
Mark's brought in more casual brands, including Helly Hansen, Columbia and Merrell, which the "Triple C" segment cares about, and began highlighting them in its marketing. It moved from the long-time "Clothes That Work" tagline it had been using since the mid-'90s to "Smart Clothes. Everyday Living" in 2010, and then to "Ready For This" in 2013 from ad agency Sid Lee. (Mark's replaced Watermark with McCann for the rebrand in 2010, then moved to Sid Lee but no longer has an AOR. It's currently working with Huge and Direct Focus. "I'd rather work with specialists in different fields," CMO David Lui says.)
Mark's new target consumer isn't a big shopper, preferring to be in and out of stores in 15 minutes, which has led to a "no-nonsense" marketing strategy, Lui says. "We talk to them directly, in plain language, with humour."
Working with Touché, the brand has also increased its programmatic advertising, allowing it to target its casual and industrial segments with different messages, so as not to alienate the old base. "It is a fine balance. But the channels open to us allow us to speak and be very relevant based on their likes and dislikes," Lui says.
Part of that communication shift has been the move from printed flyers to digital ones. Canadian Tire went digital with its flyers last year; Mark's followed with a successful Facebook flyer pilot in October, and Lui says there's "going to be a shift into a heavier digital spend."
The brand is also focusing more on e-commerce after launching a new website last year. While transactional, Lui says the sites are also meant to "emotionally engage" consumers, to share some of the technical product innovations and drive traffic to stores.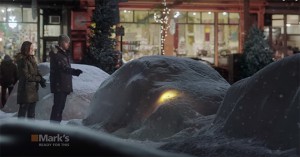 Touchscreens and other digital engagement tools at the stores have helped tell the products' stories. The Edmonton flagship debuted a "Winter Simulation" in 2009, a walk-in freezer to test coats at -40ºC. Other stores have used ramps to test Mark's Tarantula Anti-Slip technology.
But if industrial wear takes up less space on the showroom floor, White says Mark's commercial side that sells uniforms, hospital scrubs, and protective equipment like safety glasses and anti-slip footwear has continued to grow.
Still, all the changes would have been a lot for the founder to take in, from the name to the "ladies' sweaters" (Mark's declined to provide numbers on its women's business, saying only "she plays a very important role").
Bottoms says that if Blumes could see the brand he founded today, with its 380 stores, the most surprising thing would be "the loss of reverence around the working man."
"The sales would prove what they've done is right and the customer rewarded them for the shift in focus. But I think he would be disappointed by that," Bottoms says. "Growth isn't always the best thing. Usually it's what kills specialty retailers. Mark's was a specialty retailer. It still is a specialty retailer but it's trying to be a bunch of specialty retailers under one roof. I think he would have preferred to keep it focused as a specialty retailer aimed at the working man and his family."
But Summers interprets the evolution differently. While Blumes likely wouldn't be thrilled about the new name, Summers says the founder would be pleased that Mark's is still a destination store, still an innovator (it's now focused on moisture management and temperature regulating products), and that it's maintained the marriage between private-label and name brands.
"He might be jealous that he's not running it," Summers says of Blumes. "That I know for sure."