Recognizing what makes up Toronto
The city's tourism organization positions a culturally progressive urban hub as "Canada's downtown."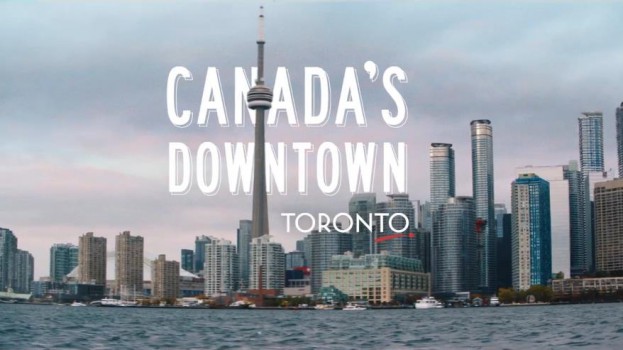 Tourism Toronto has already received a great deal of attention for the inclusive message in its latest marketing campaign, but that's just one part of the city that it is trying to convey to international travelers.
"The Views Are Different Here" manages to get a lot of the city's most recognizeable elements into a video that clocks in at just over one minute. Shots of attractions typical in destination marketing – including the Art Gallery of Ontario, Ripley's Aquarium and the CN Tower – give way to things like the city's familiar faces (from Drake to Jose Bautista to chef Matty Matheson), neighbourhoods (like Chinatown, the Distillery District and Queen St.) and cultural touchstones (like Carabana, dancers from the ballet and scenes from music venues and restaurants).
Throughout the video, a message of inclusivity runs throughout, not only saying that the difference in "views" is why every person is accepted here, but is the reason for the city flourishing when it comes to sports, business, culture and food.
J. Walter Thompson Canada is leading creative on the campaign, having won a review for the Tourism Toronto account last summer. MEC Canada is handling media.
Toronto is the major hub through which international travelers arrive, says Andrew Weir, EVP and CMO at Tourism Toronto. The city can be an anchor for a trip that includes other cities or attractions like Niagara Falls. That's even true for nearby American visitors, 70% of whom fly in as opposed to driving.
The campaign targeting international travelers will initially launch in the U.S. – urban centres like New York, Boston, Washington, Los Angeles and Chicago, specifically – before moving to other key oversees markets. One of those markets is Mexico, from which 85,000 visitors came to Toronto annually before new visa requirements came into effect in 2009 (those new rules were lifted in December 2016).
Weir says that is somewhat fortuitous timing, as many travelers from Mexico and other countries may now be looking for vacation destinations outside the U.S., which has made Canadian destinations more attractive.
Embracing Canada through the "Canada's downtown" tagline is a major departure for the city's marketing. Its past campaigns have almost had to market against national efforts (which often promote Canada's image as a giant natural wonder filled with forests and mountains) to position Toronto as a sophisticated urban destination.
"It was difficult for us to locate the Toronto story within that version of Canada that people were seeing," Weir says. "Now, there's heightened demand for Canada because of the modern, urban, progressive side of the country. And nowhere is that more evident than in Toronto."
A political stance?
Outside of the launch video and digital ads, three other, shorter videos will roll out through the spring, each spotlighting a different part of the city: its food, its arts and culture and its progressive views.

Weir is aware of how the message of diversity and inclusion that runs throughout the video is particularly relevant given the current state of political and social discourse following the U.S. election. But he says the campaign was planned in August and shot in October, and was not meant to be a direct response to the policies and executive orders coming out of the Trump administration.

"The political context isn't lost on us," he says. "And sure, some of those differences in the views here have been brought into sharper focus over the last few months, but those were still here a year ago, five years ago and they'll still be there five years from now. [Its diversity] is what has enabled Toronto to excel. There's been a layer of that in our marketing before, but we're bringing that up to the surface to a higher degree now."