The Contenders: Creativity for a cause
Our look at this year's award show favourites continues with feel-good campaigns that might warm judges' hearts.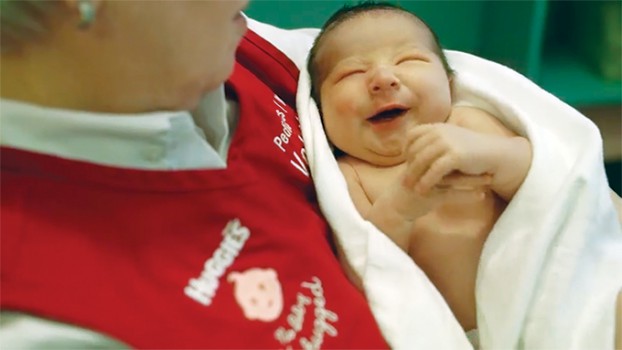 It's March, which means ad agencies across the country are well aware of the impending entry deadlines for both Cannes Lions and the Marketing Awards. With these dates looming, we spoke with industry experts who have experience in judging rooms – both in Canada and internationally – to find some of the campaigns that stand to do well on awards stages both here and abroad. We also polled strategy and Media in Canada staff to see what the year of reporting had brought to their attention.
Today, we take a look at the campaigns linked to causes and other feel-good work that could warm the hearts of judges.
Judges' picks
Agency: Ogilvy & Mather Canada
Brand: Huggies (Kimberley Clark Canada)
Campaign: No Baby Unhugged
This campaign brought volunteer "huggers" into hospitals to provide newborns with vital human contact when circumstances prevented mothers from doing it themselves. It was already recognized with a Grand Prix at the CASSIES just a few weeks ago, but Karen Howe, who judged the Promo & Activation category at Cannes in 2013, says the strength of the campaign will help it hold its own against the stiff international competition at Cannes.
"When I judged the category it had over 4000 entries," she says. "Huggies will mop up regardless. This is a deeply thoughtful, sweet activation. The brand is quietly fundamental to the story, yet it sits back and does its noble work in a way that is undemanding of fanfare. It's beautiful. It's also very Canadian. The concept is simple, yet moves profoundly."
Agency: FCB Canada
Brand: Down Syndrome Canada
Campaign: Down Syndrome Answers
For Canadian Down Syndrome Week in November, FCB helped Down Syndrome Canada create 38 videos that answered common questions and dispelled myths about the genetic disorder and people living with it. Compiled on a microsite, the public – and, specifically, parents who have to educate themselves on Down syndrome – received answers to questions like what causes Down syndrome, life expectancy of someone with Down syndrome and  if a person with Down syndrome get a driver's licence or drink alcohol.
Judy John, CEO of Leo Burnett Canada and CCO of Leo Burnett North America, pegs the campaign for a contender in Lions Health, as well as in Cyber for the digital execution.
"[The campaign] came at problem solving in different ways that are surprising," she says. "They deserve to win."
strategy picks for other feel-good contenders
Agency: Studio M
Brand: WestJet
Campaign: Fort McMurray Miracle
The original "Christmas Miracle" campaign fared well at Cannes when it was entered in 2014. The scale and impact of what WestJet did for the residents of Fort McMurray could resonate with judges at Cannes if it is presented the right way, but it will definitely resonate with Canadian judges who are already familiar with what the town went through following last summer's wildfire.
Agency: Lg2
Brand: Rethink Breast Cancer
Campaign: Give-a-Care
In terms of work for worthy causes that doesn't try to go down the tear-jerker route, this line of co-branded products for Rethink Breast Cancer built on the non-profit's mission of empowering women living with the disease. A whole range of items used cheeky, funny-because-its-true names to commiserate with some of the realities only those who have gone through treatment can relate to. From "when-life-gives-you-lemons-and-those-lemons-taste-like-chemo candies" to "all-the-slow-jams-and-silk-sheets-in-the-world-couldn't-do-it-for-me lube" to "can't-we-ever-just-have-a-normal-coversation hearts," the products supported women by embracing the realities of living with cancer, instead of hiding them.