Plan gives child marriage the finger
Why the non-profit simplified the message and made a more provocative statement ahead of taking its campaign national.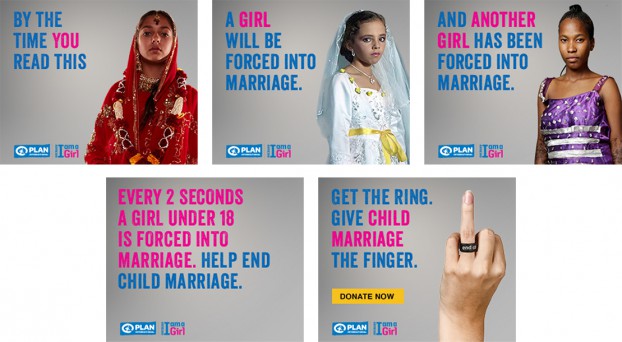 Plan International Canada is hoping to catch the attention of potential donors by using a clear, head-turning message about the issue of child marriage.
The first iteration of the "Give Child Marriage The Finger" campaign launched in the fall, with out-of-home posters in select markets. Lisa Chicules, chief communications officer at Plan International Canada, says the campaign was successful enough to convince the non-profit to take it national for the spring.
"We learned that the message was very provocative and resonated with Canadians," she says. "The idea of receiving a ring also helped in terms of people displaying the ring and speaking in solidarity with the issue and posting about it on social. So we've taken all the learnings from that and applied them for 2017. There's an opportunity to not just expand the scope of the campaign, but the impact as well."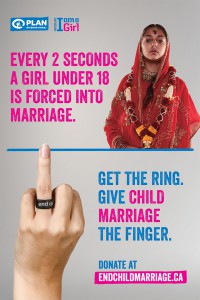 Launched yesterday and running until May 30, the creative (including television, OOH and online) is based around the message that every two seconds, a girl under the age of 18 is forced into a marriage. It finds different ways to illustrate that statistic, like the series of digital ads seen at the top or a Facebook Canvas ad that gets users to scroll through a visual representation of the 15 million girls that are forced into marriage annually.

It then asks potential donors to "give child marriage the finger" by donating and receiving a ring, with the image playing both on the ring finger a wedding ring traditionally goes on and "flipping someone off."

Compared to the campaign that ran in the fall, the message is much more simplified and the creative features a wider range of girls. One of the girls featured in the campaign was actually forced into a marriage with a man twice her age when she was 15, later abandoned by him and living on the streets until she became a recipient of support from Plan International.

"The finger creative was prominent in the work we did in the fall and the provocativeness of that resonated well," Chicules says. "But simplifying the text and the message makes it more provocative and more powerful, and we can give more of the detailed information once you get online."

DentsuBos led creative on the campaign, with Isobar on media, H+K Strategies on PR and Aber on digital.

"We're finding that in the non-profit space in general, you have to find a way to break through, and the way to do that is with a provocative message," Chicules says. "We're also asking people to donate something where the tangible value to them is emotional, so they're not receiving a product. You have to speak to the emotion if you want people to give to an emotional cause."

Chicules says Plan's "bullseye" target for donors are 40-year-old women, and the campaign was developed with that person in mind. However, she adds that the issue of child marriage and the message Plan is using to raise awareness about it has been resonating with a broader range of Canadians.

"From a donations perspective, [the 40-year-old woman] is where our bullseye is, but we also did see that the campaign resonates with a younger demographic," Chicules says. "They might not be donating, but they are an important part of our advocacy, saying [child marriage] isn't right and spreading the awareness however they can."