CIBC drops everything to fly
The bank uses Snapchat Spectacles to capture the spontaneous moments its Aventura rewards program provides.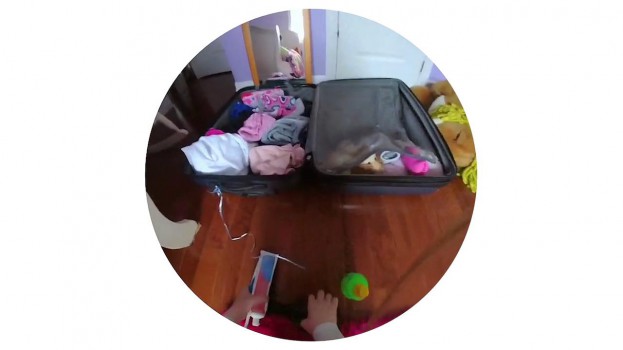 CIBC is using Snapchat's camera-enabled wearable to capture the spontaneity and sense of adventure its Aventura travel rewards program can provide its members.

In the social video leading the campaign, an Aventura Concierge drops in on a few families and offers them a trip to New York, provided they can pack a bag and be out the door in ten minutes. The families are also given Snapchat Spectacles – the social platform's glasses that have a camera embedded – to document the experience and letting viewers see what it's like to "drop everything and fly."

"We used the Spectacles as a device to create that real-time experience that this is really happening," says Rob Assimakopoulos, SVP and CMO at CIBC. "It's technology, it's modern, it's interesting and it's instantaneous. To document this really happening, we believe it really helps us communicate Aventura's unique positioning of being able to enjoy your rewards so seamlessly and so easily."

The campaign, which had creative led by Juniper Park\TBWA, also includes six-second teaser videos using footage shot on the Spectacles. The broader campaign also features print, radio, out-of-home and digital display ads.

"Cards lend themselves to being discovered in a digital space," Assimakopoulos says about the multi-channel, digital-led approach to the campaign. "I'd say we continue to be firmly in that space when it comes to promoting and transacting new card customers. What we've done right now is built a promise and message that is very fit for purpose for that digital environment."

Since the Aventura program was launched in 2013, the promise has been that it gives members access to any seat, on any airline, at any time. Campaigns promoting it initially featured mascot Percy the Penguin noting how the program finally allows the flightless bird to fly, but Assimakopoulos says when you are running this kind of program, you have to continuously find new ways to deliver on that promise. Wheras other rewards programs tend to focus either on delivering value back to members in exchange for loyalty or delivering a VIP experience that would otherwise be out reach, CIBC has been leaning into the fact that the ease and convenience of Aventura allows for more spontaneous, "drop everything and fly" moments.

While Snapchat and other social campaigns tend to target younger demographics, Assimakopoulos says being socially-led and spontaneous was more about targeting a mindset instead of particular age group.

"Demographics can be a trap sometimes, when you think of a traditional family where the father is in the living room reading the paper, and the mother is in a traditional role and the kids are playing in the backyard," he says. "This is really for families as tribes that are seeking adventure, and would look at each other and see who is willing to drop everything and fly right now. They families we featured also seem like the kinds of families that Snapchat with each other."

Spontaneity is the main message of the campaign, but in the video, the Concierge spends her time helping the family plan other elements of their trip, like finding a hotel, restaurants and entertainment. That mimics the CIBC Travel Concierge service, which helps customers plan their trips and find deals on things to do while they're there.

"We wanted to also show that just because you're being spontaneous, doesn't mean you're on your own when it comes to figuring out everything about your trip," Assimakopoulos says.