Scotiabank's democratic approach to the arts
The bank refreshes its sponsorship-focused campaign to highlight Canadians' collective creativity.
With technology and social media, the arts are more accessible than ever, including when it comes to how we participate in them.
That idea has prompted Scotiabank to refresh the creative tied to its various arts sponsorships, taking an increasingly democratic approach.
A new series of film spots by Bensimon Byrne show how Canadians are all artists in their own way, such as "We are all storytellers" and "We are all photographers."
The videos are being used predominantly online and also as part of the bank's various arts sponsorships, including being screened before documentaries at the Hot Docs Canadian International Documentary Festival in Toronto, where it sponsors the event's "Big Ideas" film series.
With everything from smartphones to blogging, the arts have really gone from niche to broad and Scotiabank wanted to highlight the accessibility of the arts and the role everyone plays, says Clinton Braganza, SVP of marketing at the bank.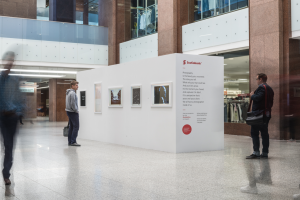 In that same vein, the brand has created a display of 10 digital screens at Scotia Plaza in downtown Toronto, using it to curate Canadians' social media photos that use the hashtag #ScotiaGallery into a photography exhibit.

The new campaign is a refresh of the bank's "Inspired by the arts" platform, which first launched in 2013, but the arts have been core to Scotiabank's overall sponsorship portfolio for several years now.

Among its key sponsorships are being title sponsor to the Scotiabank Giller Prize literary award and the Scotiabank Contact Photography Festival. In late 2015, the bank also partnered with the National Gallery of Canada to create the Canadian Photography Institute.