The future of shopping: Grocery robots and flowers by mail
In part two of this series, we explore the not-so-distant future of pick-up and delivery.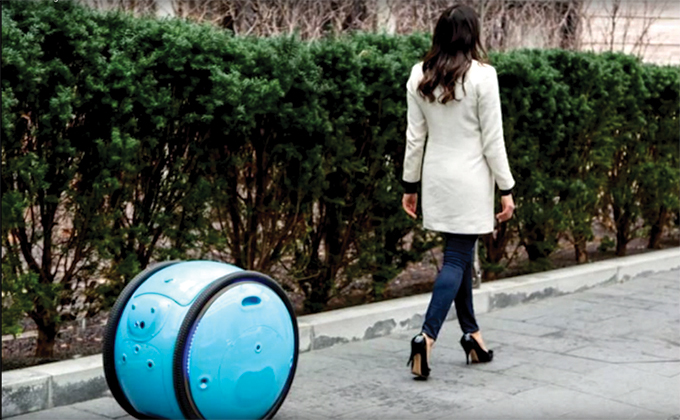 This article appears in the May 2017 issue of strategy.
The single household is multiplying. So is the online shopper's appetite. Personalization is essential to getting consumers off the couch and into the store, as are tailored experiences. Friction is to be avoided at all costs.
Even though trends in retail have become clearer, there's no definitive response. Brands facing changing demographics and consumption habits are playing with product formats and in-store experiences, as well as testing supply chain and delivery innovations. Many are trying to duplicate the ease of online shopping in the physical retail world through easier payments and custom service.
Our five-part shopper report takes you through the trends and strategic approaches (in Canada and around the world) that brands are adopting as they try to catch up with the future shopper. Read part one here and check back throughout this week for more on the future of shopping.
It is no longer unfathomable, in 2017, for a robot named Gita to carry your groceries home.
While several companies experiment with robot technology to gather your foodstuffs – thus cutting down on labour costs for online grocery ordering – Piaggio Fast Forward, a division of the Italian scooter brand, is developing an "intelligent, nimble cargo vehicle" to do the lifting (or rolling, as it were).
Gita is at the far end of a growing spectrum of brands experimenting with new delivery mechanisms to establish direct relationships with consumers and address demand for instant delivery. The Hudson's Bay Company, for example, invested $60 million to upgrade an e-commerce warehouse in Scarborough, Ont. that started operating last fall. The dystopian-sounding "robotic fulfillment centre" features 16 aisles that can hold more than one million units of inventory and process 4,200 orders every hour, a release said.
In the U.K, a flower shop has developed its own unique solution to shipping its product. The online-only Bloom & Wild offers same-day service in London and next-day across the country, using unique boxes that keep the product hydrated and are flat enough to fit through mail slots.

The boxes cut the supply chain by not relying on a courier for delivery, and eliminate the common problems of missed deliveries or ruined surprises. Orders are made on the website or on a mobile app in as little as 30 seconds, and the latter can be integrated with calendars and address books.

But it's not as simple as investing more in direct sales, or figuring out where to target e-commerce spending, says ConAgra senior omnichannel marketing manager Vanessa Sankar.

Rather than developing its own channels, the company is looking to leverage retailer platforms to build the online side of its sales. "Given the geography of Canada and how difficult and expensive the supply chain is, it wouldn't be our strategy to sell direct to consumers," she says.

Most of its work so far has been with Walmart. The retail giant has an online grocery order and pick-up service across the Greater Toronto Area and in six Edmonton stores, and in March introduced grocery delivery in the GTA through partners JoeyCo and Daily Delivery. Brands can buy media on Walmart's website, which ConAgra has done, providing a new channel to find consumers on the path-to-online-purchase. The CPG co is also experimenting with Amazon, though it wasn't ready to provide details.

A February eMarketer report about Canadian e-commerce says the major challenge is not "the principle of omnichannel or even the technology behind it," but being able to turn a profit.

"The investment can be immense: big data systems, e-commerce fulfillment operations and digital platforms that provide a consistent experience across device types."

Click-and-collect programs have gained the most traction in Canada, the report says. Even a deep-pocketed pillar of Canadian retail like Loblaw is focusing on store pick-up over home delivery. CEO Galen Weston said in a February earnings call that while his company may experiment with delivery, its research in mature online grocery shopping markets shows "a shift towards click-and-collect."

As businesses look for reliable and cost-effective ways to deliver their products, it makes sense that Canada Post, which delivers two-thirds of the country's business-to-consumer parcels, is focused on relieving some pain points. Toronto's Ove Design helped create concept stores that provide a place for smaller retailers that don't have logistics systems to drop parcels at any time.

The shops have 24/7 access, self-service kiosks, stamp vending machines, drive-thru parcel pick-up, pop-up retail units and fitting rooms to try on purchased goods and send back items that don't fit right away.

"When we talk about the role frictionless retail plays in people's lives, what Canada Post has done is realized their role is going to be a hub for enabling the e-commerce experience in general," says TracyLocke Canada VP and managing director Jason Dubroy.

The retail units in the Canada Post concept stores also give online retailers an opportunity to connect with consumers. Toronto-based online dress rental service Rent Frock Repeat, Bedface bed sheets and Ice 'N' Fire candles have all used the pop-up space.