Canadian Blood Services debuts a chatbot
The organization finds a new way to get info about the importance of blood donation out to a younger audience.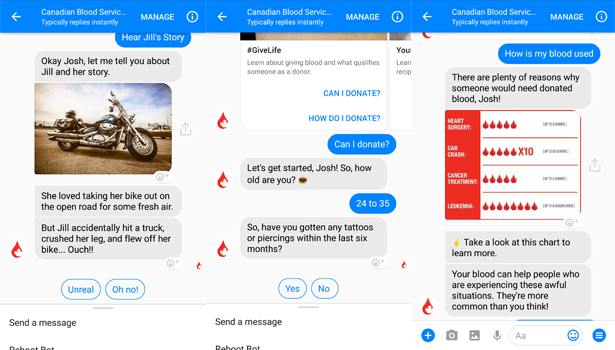 Canadian Blood Services is the latest organization to launch a chatbot on Facebook Messenger to engage past and potential future donors on the platform.
Developed with EY's digital team, the Facebook Messenger bot is a menu-style bot, which means it requires users to choose from a list of questions and responses to give to the bot instead of simply using natural language.
However, the list of functions it performs is long, such as helping people determine if they are eligible to give, educating them on what the donotion process is like and providing information on how their blood is used and other ways to get involved beyond donation. It also tells stories of situations in which people have needed blood in the past, and uses that as a vehicle for more stats and figures about things like how much blood is needed after an accident or which types are in particularly high demand.
While the number of companies and other organizations that have been utilizing chatbots has been on the rise, Canadian Blood Services is the first national blood operator to do so.
Mark Donnison, VP of donor relations at Canadian Blood Services, said in a press release that the chatbot is meant to be a fun and interactive way to engage with younger donors ahead of the summer season, when the blood supply needs a boost. Ralph Michaelis, chief information officer, added that it is also part of ongoing effort to embrace new technologies as a way to reach and engage donors, both ones that haven't donated before and ones that have donated in the past.