Cannes 2017: Unilever's Keith Weed charts a course
The CMO tells Cannes Lions attendees his views on audience polarization, views and #unstereotyping.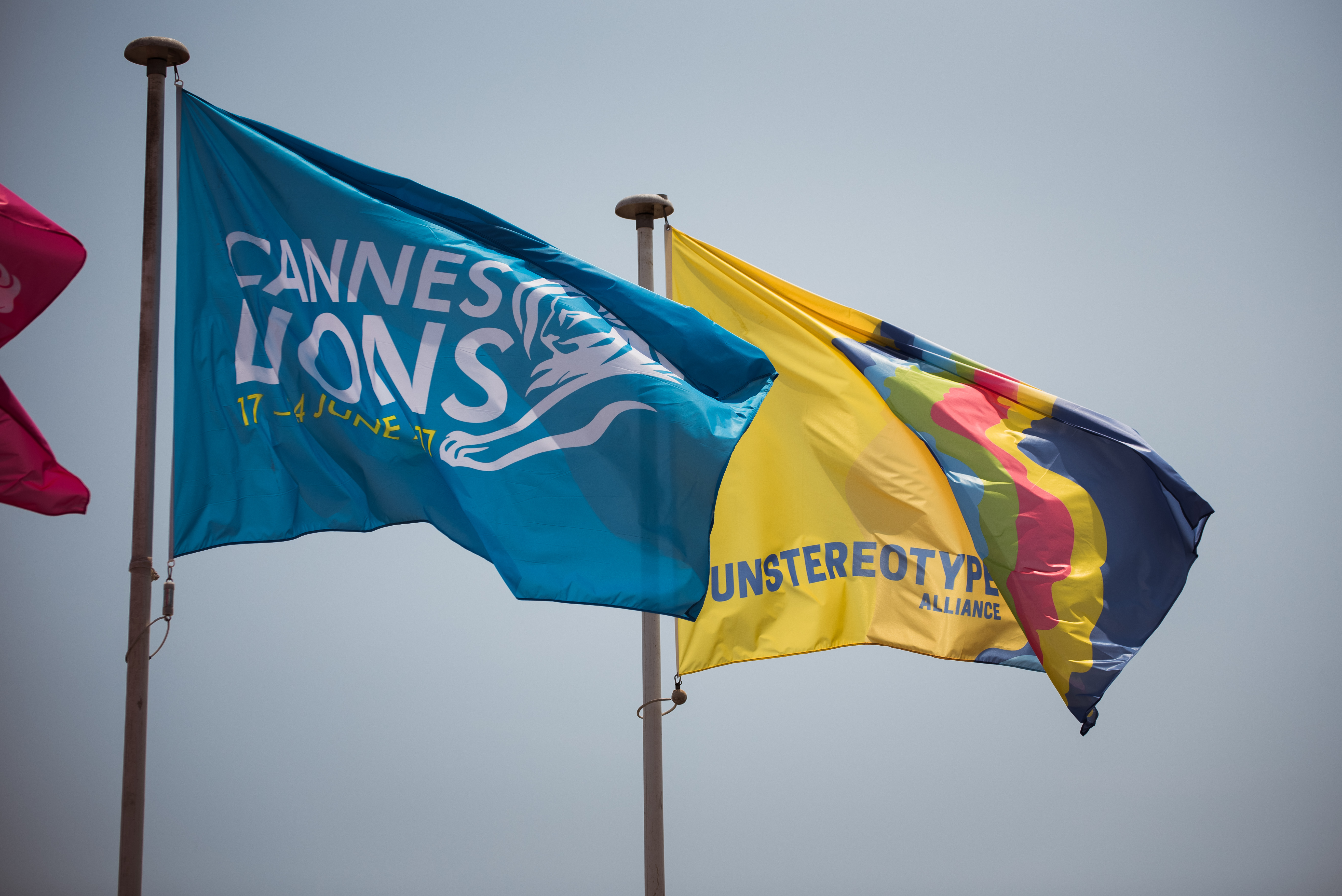 Above: The #Unstereotype flag is unfurled at the Cannes Lion International Festival of Creativity on Wednesday
When Unilever CMO Keith Weed returns to Cannes next year for the 2018 Lions, he wants to be talking about progress. And he's working on a few benchmarks to chart it.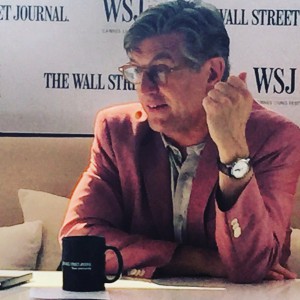 Last year in Cannes, Unilever called for an end to gender stereotyping in advertising with the launch of "#unstereotype." This year, with UN Women, it's leading an alliance that includes Mars, Microsoft, J&J, Mattel, P&G, WPP, Google and many other companies. The first session of the "Unstereotype Alliance" will be held Thursday in Cannes, where it will develop a measurement system and set some goals, allowing it to chart progress and reconvene next year, said Weed (pictured right) during a Q&A with Wall Street Journal editor in chief Gerard Baker Wednesday.

Unilever's research found only 3% of ads showed women in clear leadership positions; only 2% of women appeared intelligent; and only 1% showed a sense of humour. It also found that "progressive ads" without the "lazy short-hands" about gender roles were 25% more effective, Weed said.

"I think if we hold a mirror to the industry, we'll start taking this more seriously," he said.

Weed and Baker's conversation was wide-ranging, showing just how broad the CMO's purview has become. The discussion covered sustainability initiatives, media buying (and the Google/ Facebook duopoly), being "mass market" in a polarized world, and handing power over to local marketers. These big issues weren't solved over the course of the conversation, but it showed one of the world's biggest advertisers has clear ideas on how to navigate the difficult terrain ahead.

When it comes to measurement, Weed said he wants greater agreement in the industry about what constitutes a "view" in digital advertising, which he unequivocally says should be 100% of the pixels in an ad.

"Imagine you bought a tub of Ben & Jerry's ice cream and it was half full," he said. "It doesn't pass what I call the 'mom and dad test.'" He wants one measurement system across the industry to deal with fraud, verification and brand safety as well as views. And if they pull that off, "the good guys will win," he says. "When we get real transparency and clear measurement, the ad dollars will go toward the better products. The people that will lose out are the more flaky sites."

Brands have more control about where their ads end up than they often admit, he says. That's why Unilever didn't move its massive ad spend away from YouTube when other corporate giants did, preferring to focus on running a tight programmatic desk and working out the problems.

"We think it's better in these situations to stay with partners – we've been with Google for many years – and work through it," he said. "I think if people go away saying they want 100% brand safety, they're going to have a very slow and long walk back,."

Google's decision to create a 10,000-view threshold on YouTube before  content is monetized is a positive new safeguard, Weed said. But Unilever is working behind the scenes to work out remaining issues around what counts as a view.

But even if the industry can get work viewed, brands still have to contend with how they position the messages they're putting in those spaces. A more politically polarized world has affected where some brands buy their media, but it has also forced marketers to think about their reach and target. The U.S. election led to some soul-searching among marketers and agencies on the coasts about their ability to reach all consumers – particularly those in Middle America – with aspirational messages.

Weed said Unilever's "sustainable living brands" – products with a social or environmental purpose, including Dove, Hellman's and Axe – accounted for 60% of the company's growth last year, and grew 50% faster than the rest of the business. "I think there is increasing evidence that people do really do want to spend more time with brands they care about," he said.

At the same time, not every brand is for every consumer. Ben & Jerry's may not be to everyone's liking, Weed said, but that's why there's also Good Humor, Breyers and others. "We do a portfolio," he said. "The idea is these brands can then be more focused to a particular target audience."

But with what Weed said were 2.5 billion people using Unilever products daily, maintaining a mass-market appeal is extremely important. It achieves that with big spending on market research to be "the most local of the multinationals."

In addition to having many locals running marketing departments in their respective countries, Unilever recently changed its marketing organization to give more agency to those on the ground. The company used to have a global "brand development" branch in charge of advertising and innovation, and a local "brand building" group tracking local trends. But with both sides creating assets, they ended up with a glut.

"We've gone to one marketing team and very much pushed the empowerment more towards the local marketers on the basis that whoever's closest to the information should be making more of the decisions around content, et cetera, to make sure we don't lose that connection with what's going on in the individual markets," he said.