MEC charts a path outside
A new platform aims to introduce new customers to the outdoor-focused retailer and move them down the funnel.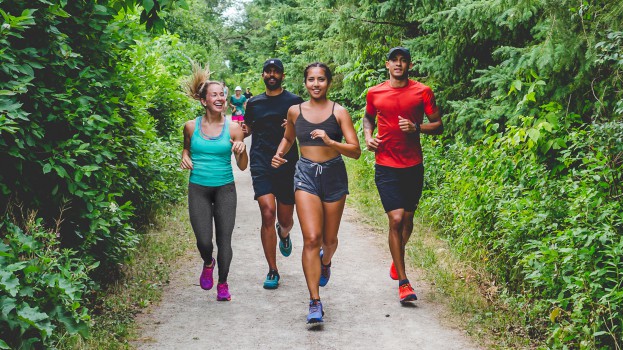 MEC is trying to show would-be runners, hikers and campers that getting outside is not as hard as they might think with a new guide aimed at breaking through those barriers.

On the "Good Times Outside" website, the outdoor retailer has curated a list of outdoor activities, which are organized by "vibe." Visitors to the site can browse activities based on vibes like adventure, social, kid-friendly and unwind, as well as by difficulty level or distance from their current location. From there, it takes them through planning their outing, with written guides and curated social media posts showing what their day will look like, as well as a listing of gear from MEC they may need.

'There's many steps before embarking on a new activity that you may not have done before, and they're all well before actually buying the gear and packing up the van," says Ryan McKee, brand engagement director at MEC. "We wanted to create something that really addresses those barriers and leans on our ability to give advice to people on how to do something, where to go and what's attainable."

McKee says offering advice has been a key pillar that MEC has leaned on when engaging with customers, be it in-store or in past content-based marketing. As strong as the MEC brand is, using advice-focused content to introduce people to the brand is an important way to move them down the funnel, especially as it expands with new retail locations opening last fall and in the spring.

"There's barriers to getting outside sometimes, so we can't just hit them with gear right off the bat," McKee says. "We felt placing a big bet on content and being that advice-giver to the community was a great entry point for us, because then people are more comfortable moving down the funnel into our stores, be it buying products or signing up for one of our events or workshops."

More activities will be added to the site on an ongoing basis, and McKee says roughly 70 new activities are being added to the site this month that have a slightly higher difficultly level and are more geared towards experienced outdoor enthusiasts. But the initial roll-out was geared more towards urban audiences, and the "vibes" represent the different things they are looking for from their outings, based on research and what MEC has heard from its customers.

"They may not be getting out into nature as much as they like, or maybe not know much to do beyond the commonly known spots," he says. "What we wanted to do was highlight for them that within a short drive, there's beautiful hikes and campgrounds and trails you can take part in, and how easy it is to do so."

"Good Times Outside" is being support with social, display and search, as well as a series of activations at outdoor festivals through the summer and special events MEC has organized, like adult summer camps, daybreak hikes and "bike crawls."

Huge Toronto led development and strategy of the platform, with Vancouver's Quietly providing content marketing, 6S managing paid media and NKPR supporting events throughout the summer.