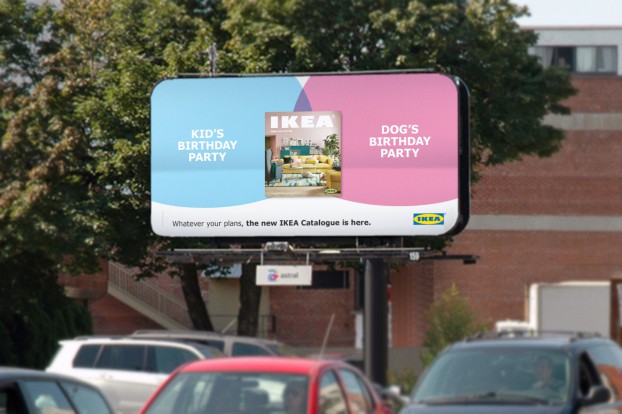 This year's IKEA catalogue will soon be distributed across Canada, and the company is looking to get people flipping through it by letting them know there's something for everyone inside.
In out-of-home and TV, the retailer is focusing on how its products fit into anyone's life by juxtaposing different ways people can use them. That could be using a couch to binge watch a show or to watch it weekly, for example, or using a living room to host a birthday party for a child or for a dog.
The campaign, which is running in both English and French, also features more contextual activations in Toronto's Union Station, Vancouver's Burrell Station and in Montreal. For example, a mural in Vancouver is set up at the point in the station where commuters can choose to either head in the direction of the office, or towards the Grouse Grind hiking trail.

The campaign is tied to the theme of this year's catalogue, "Make Room For Life," which focuses on the living room. In a press release announcing the catalogue's launch, IKEA pointed to the fact that the living room is "the hardest working room of the home" and sees the most diverse range of activities. The company determined this through customer research, including more than 250 home visits across Canada last year.
As with past years, IKEA is also launching a digital version of the catalogue and an app to accompany it. This year, some of the extra content available on the app includes videos providing more information about the products and home solutions shown in the print version.
The campaign will launch Monday, coinciding with the delivery of the catalogue in markets with an IKEA store or pick-up location. Nearly seven million copies are expected to be delivered in 2017, including 238,000 going to Halifax for the first time, where a new store will open this fall. The Halifax store will be the first in IKEA's expansion plan for Canada, which will see the number of stores double to 24 by 2025.
Diamond Integrated Marketing handled creative for the campaign, with Jungle Media on the media buy and Citizen Relations providing PR support on catalogue launch events.