Check it out: Finding the force in-store
Disney's new Star Wars merchandise push includes an AR collecting game to move fans in-store.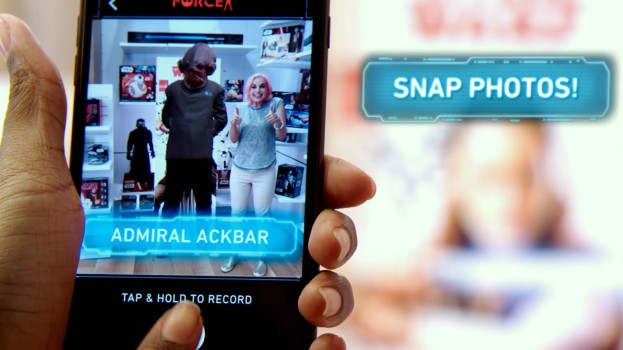 As the world readies for the media onslaught that is a new Star Wars film, Disney is releasing an official app with an AR activity that hopes to drive shoppers in-store for licensed merchandise.
Find the Force launches Sept. 1 in 30 countries. Participating retailers will be home to special displays that can be scanned to activate virtual animations of Star Wars characters. An in-game currency can be collected for each unlocked character, and those who share their AR scans on social media can win tickets to the premier of Star Wars: The Last Jedi.
Participating Canadian retailers include Best Buy, Hudson's Bay Company, Toys "R" Us and Walmart.
The available characters change over the course of the campaign's three-day run, so those who visit stores more frequently have a better chance at getting in-game rewards and contest entries.
The Sept. 1 launch has been dubbed "Force Friday" by Disney, an event it first created in 2015 ahead of Star Wars: The Force Awakens's debut. The event is used as the international kick-off for new franchise merchandise and drove a reported seven-times increase in monthly online merchandise sales thanks to campaigns on YouTube, Amazon, Target and in Disney theme parks.
Star Wars merchandise was so popular in 2015, it was cited as the driving factor behind at 4.2% sales spike in all licensed merchandise sales world wide, according to the International Licensing Industry Merchandisers' Association. Such sales reached $251.7 billion that year.