Shea Weber races a horse
McDonald's continues its partnership with the Montreal Canadiens to promote its Mighty Angus burger.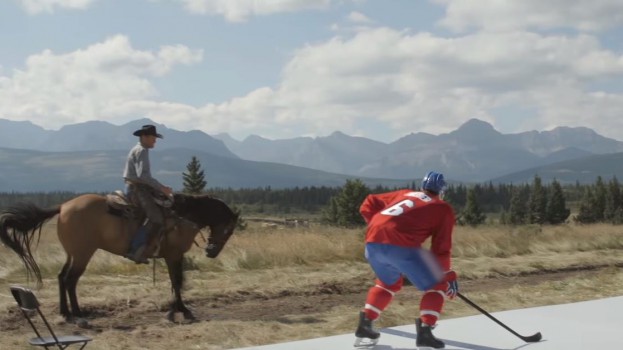 To promote its Mighty Angus burger in Quebec, McDonald's Canada turned to one of the Montreal Canadiens' toughest players to prove just how "mighty" he his.

Renowned tough guy Shea Weber was sent out to Western Canada to meet up with cowboys similar to the ones the QSR has used to promote the Mighty Angus in the past. An artificial ice strip was laid out in a field, creating a track where Weber could race next to rodeo champion and professional stuntman Greg Schlosser on his horse.

Weber won the race by covering the 200-foot track in 6.15 seconds. Video of the race is being aired on TV and through promoted social videos.

On the ground, McDonald's is giving regular people the chance to go face-to-face with Weber. A digital transit billboard is encouraging people in Montreal to take Weber on in staring contest. The board is outfitted with facial-recognition tech, so it can tell if someone blinks before Weber breaks his famous tough-guy stare. The board will be up until Oct. 2, but people who proved they were "mighty" enough to beat Weber in a stare-down on Sept. 12 were awarded a free Mighty Angus burger.

Cossette led creative on the campaign, with OMD on media.

McDonald's Canada has a track record of reaching consumers in Quebec through their love of the Canadiens through the "McPlayer" platform. Past executions have included getting customers to choose between burgers customized by Habs teammates and giving them a free Big Mac if they would give a hug to hated rival Zdeno Chara.