What's behind Manulife's creepy carnival?
The brand continues its "Uncover the Truth" platform, focusing this time on investments.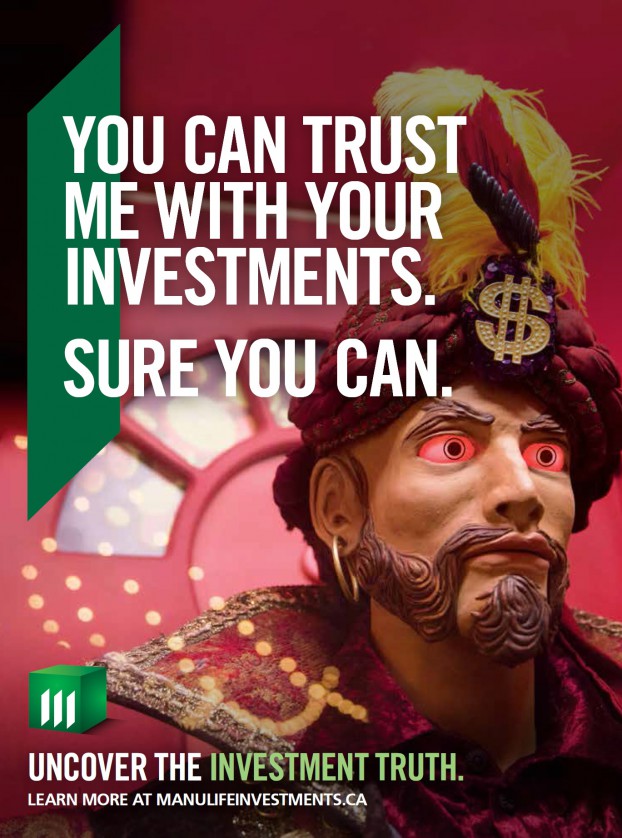 When it comes to money and the task of investing, it can feel like we're being constantly bombarded with scary and confusing options.
Manulife has zeroed in on that insight for its new "Uncover the Investment Truth" campaign, featuring a couple at a creepy carnival being accosted by sketchy game options.
The idea of some of the carnies focusing specifically on low prices was central to the creative, since new competitors and even media stories are largely focused on low fees as the most important part of investing, says Leisha Roche, VP of brand and marketing at Manulife.
The brand's goal with the campaign is to challenge that idea and signal to consumers that investments are about more than fee. Roche says people really need options that are right for their circumstances, especially when they're looking for high growth, for example (the national campaign is targeted primarily to professionals with household incomes above $100,000).
The campaign creative, including 15- and 30-second videos and digital banners, drive to Manulife's investment website, which includes more information on its portfolio managers and finding the right fund.
The campaign is the latest iteration of the financial brand's "Uncover the Truth" platform, which first launched with a dramatic, movie trailer-inspired campaign centred on the mortgage shopping process.
For the new "Uncover the Investment Truth," Manulife has again taken a 100% digital and social approach, which proved successful the first time around. The three-month mortgage-focused campaign led to 26 million views and helped drive 30% year-over-year sales growth, Roche says. Specifically, the campaign tested well in terms of viewers finding it engaging and going beyond pure product messaging, she says.
The brand is set to roll out "Uncover the Truth" campaigns related to credit cards and banking. Manulife worked with DentsuBos on the creative campaign while it transitions to its new agency, Heat. Mindshare handled media.