Whirlpool opens up the lunchbox
A young Syrian girl is the star in the appliance brand's take on the importance of the mid-day meal at school.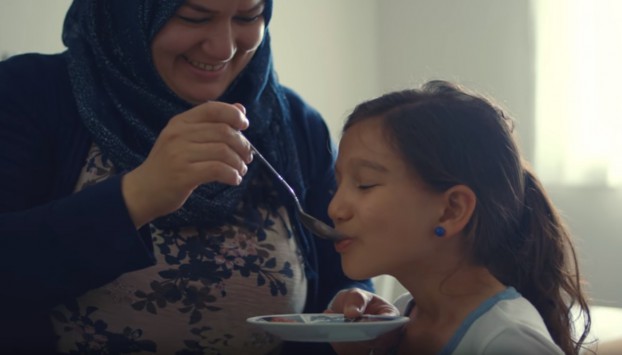 Most parents know the feeling of frustration that comes with school lunch prep. But for new Canadians, the experience can be even more stressful.

Whirlpool Canada is now exploring that insight in a new online film. It features Sama Al-Salihi, a young girl who immigrated to Canada from Syria in 2014 when she was just six. Like many other new Canadians, she liked eating traditional foods from her native country – but had never shared those foods at school.

The short documentary tells the story of Sama taking the plunge to share her culture with her classmates, who in turn work with a Toronto illustrator to create a custom lunchbox for her.

"Sama's Lunchbox" is part of Whirlpool's "Every Day, Care" platform, first launched in the U.S. in 2015 and brought to Canada last year. "What we try to do through that campaign is change the way people see the everyday chores and tasks we do to care for our families," says Michelle Domet, senior brand manager at Whirlpool. "A lot of times people see those as mundane or insignificant." For example, the platform focuses on how dinnertime together can improve children's vocabulary or how clean clothes contribute to better school attendance rates.

Ahead of back-to-school, Whirlpool put its focus on lunch – a challenging experience for many parents but also one that plays a role in bringing families together, Domet says. However, lunch can also be stressful for kids from new Canadian families who bring their traditional foods to school and might fear being teased for it, she says.

That insight was gleaned from a survey Whirlpool conducted, which also found that Canadians are more focused on our collective values than our heritage, and that we want to share those values with our kids, Domet says. In particular, 70% of those who responded to its survey said that giving children an opportunity to try dishes from different cultures is a good way to encourage mutual understanding and respect.

To delve into those insights, Whirlpool turned to the documentary approach, its way of connecting emotionally with its target consumer – parents, with a bullseye target of women aged 42. New Canadians aren't necessarily the target for the campaign, Domet says. Rather, Whirlpool wanted to tap into conversations Canadians are already having right now about inclusivity.

Along with the full online video and a 30-second version running on Facebook and YouTube, Whirlpool also partnered with lifestyle blogger Emma Waverman on a series of PR and media initiatives, including a Facebook Live event with the Al-Salihi family. The brand worked with Zulu Alpha Kilo on creative, documentary director Katie Dellamaggiore, Cossette on media and Hill + Knowlton on PR.