Why Simons went back to the mobile drawing board
The retailer's marketer explains why its first mobile app took this long.
Retailer Simons has debuted its first mobile app and while the move might have some questioning what exactly took so long, the answer, for its head marketer, is straightforward.
Simons actually had been developing an app two years ago, says Philippe Normand, the brand's VP of marketing. But just as it was about ready to go to market, the team stepped back and asked whether it was truly offering up something different than its e-commerce site.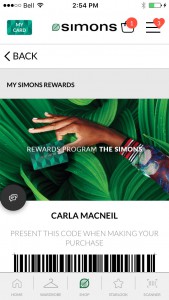 The answer, Normand says, was no.
So it was back to the drawing board.
Along with the obvious – letting shoppers use the app to shop – Simons' priorities when creating what's now the retailer's mobile app were twofold, Normand says.
One priority was to use technology to actually enhance the customer experience. The key part of how that's come to life has been through a proprietary image recognition feature into the app. Dubbed "Starlook," it allows users to snap a photo of something they like and use the app's artificial intelligence it to search Simons' inventory for something similar.
The other goal was to create a seamless experience between in-store and online shopping and basically facilitate customer's lives. Loyalty rewards, for example, are integrated into the app, allowing customers to access their points and check their balance. It's also included a "wardrobe" feature for shoppers to actually see what they have already purchased from the store, an addition made based on customer demand, Normand says.
On the in-store side, customers can locate products and services through GPS directions and detailed store maps in the app. The app also allows shoppers to scan product tags in-store to bring up more information on the Simons' website.
The 177-year-old, family-owned retail brand has been measured in its expansion beyond its home province of Quebec, but has been steadily expanding in Canada, earning it a place on strategy's Brands of the Year list in 2016. At that time, Normand noted that e-commerce sales were growing 60% annually.