GoDaddy helps Norm Powell drop a new single
The Toronto Raptor creates a site for his fledgling music career and helps the brand tell a more authentic story.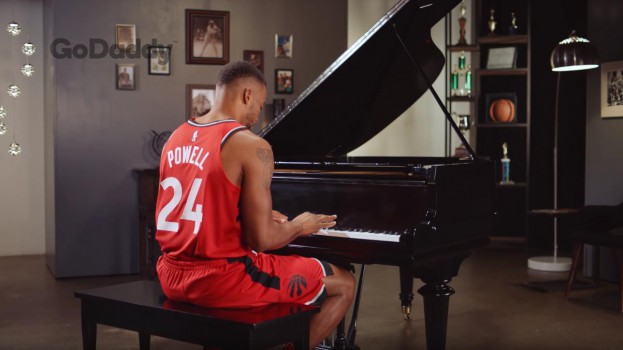 Another Toronto Raptor has turned to GoDaddy to give his passion a home as part of the website hosting service's latest campaign.

Much like when Jonas Valančiūnas used GoDaddy to sell his "Itty Bitty Ballers" earlier this year, Norman Powell has used GoDaddy to build and host a website for his aspiring music career. In addition to a spot showing Powell actually playing the keys, the up-and-coming Raptors star has also recorded a new single – "No Problem" – that he is hosting and promoting through his site, "PowellOnThePiano."

The full song is available for streaming on Powell's website, which also features a behind-the-scenes video. A music video for the song will be released next week and the broader campaign features social media posts, out-of-home ads and placements within the Air Canada Centre, where the Raptors play.

GoDaddy worked with Pirate to record and produce Powell's new single. Juniper Park\TBWA helped write the song and handled creative for the broader campaign, while Wavemaker handled the media buy and North Strategic is on PR.

Jill Schoolenberg, country manager of GoDaddy Canada, said following the positive response to "Itty Bitty Ballers," the company began speaking to the Raptors' management about real hobbies and interests its players had that could be spotlighted. The fact that Powell has a real-life passion for the piano and music allowed the company to create a campaign that had a more authentic feel.

"'Itty Bitty Ballers' was naturally funny because we had this parody around a big guy making little stuff," Schoolenberg says. "In this case, Norm takes music pretty seriously. The story we're telling is true and more authentic."

The spot also does place a bit more of a focus on showing GoDaddy's website builder and customer service, something the company has spoken about in past spots but is shown in action here between Powell playing the piano. Besides that and the authentic nature of Powell's story, much of the insight and thinking behind the campaign has remained the same.

"It's about how much you keep to keep the momentum going and how much you change to have a new, relevant scenario," Schoolenberg says. "We're still partnering with the Raptors, showing a player outside of their expected environment, and there is a little bit of humour in the spot, because that does seem to draw people in. We simply built on that by finding someone with a real story behind them."

Whereas "Itty Bitty Ballers" was focused more on the ecommerce applications of a website, Schoolenberg says the new campaign also looks to show the benefits beyond "selling stuff." That is relevant for personal users who need a place to host their creative passion, but is still relevant to small businesses looking for easy-to-use vehicles for advertising and promotion.