Russell Stover runs first Canadian ad campaign
You may not like every flavour in the box, but that's okay, according to the chocolate brand.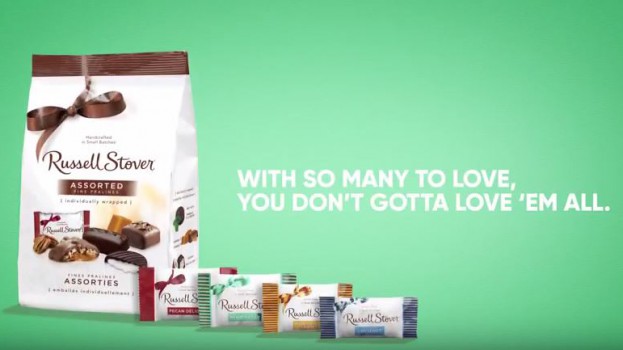 Forrest Gump may believe that "You never know what you're gonna get" when life hands you a box of chocolates, but in reality, most of us know to expect at least one flavour we'd rather do without.

That's the idea behind chocolate brand Russell Stover's first advertising campaign in Canada.

The campaign launched this week and includes a series of six- and 15-second video spots created by Grip, with Vizeum on media. Each video begins by showing Russell Stover chocolates being eaten in a pattern. The most popular flavours disappear first, because whether it's mint, caramel or coconut, not everyone loves all of the 16 varieties contained each box.

That's alright, the campaign tagline suggests, because, "With so many to love, you don't gotta love them all."

Oliver J. Woodburn, senior director of marketing at Lindt & Sprüngli Canada, says the campaign was launched to raise consideration for the brand. While Russell Stover has been around since the early 1920s, its consumer research showed that many people have heard of but never purchased its products.

Seeing as the box of chocolates is what Woodburn describes as a "mature category" that is relatively quiet, the brand wanted to take an unconventional and somewhat cheeky approach in an attempt to stand out.

"If sharing a box of chocolates is a social occasion," he says, "then the discussion around all the different flavours and the assortment that is in the box is the conversation starter."

Russell Stover chocolate buyers skew female and tend to be part of the 40-plus demographic, Woodburn says. Often, they're people who like entertaining and socializing, but they're not necessarily the "formal gift giver." Compared to some of Lindt's other brands, whose products are more commonly given as hostess gifts and eaten later, Russell Stover chocolates are more likely to be opened and shared right away. Its price point makes it more of approachable than other brands, more of an "everyday box of chocolates," according to Woodburn.

The fourth quarter of the year, which coincides with the holiday season, is an important one for the chocolate maker, although Woodburn says Russell Stover sales don't skew as much towards the holidays as some of its competitors. It sees strong sales at Easter and is the number two brand at Valentine's Day.

The campaign runs until Dec. 31 and includes static images and banners. It is being rolled out primarily on digital and social media platforms, but includes a small print component.