Mark's debuts new, working-class brand platform
The retailer hopes "Well Worn" will provide a clear brand identity as it attempts to expand to new audiences.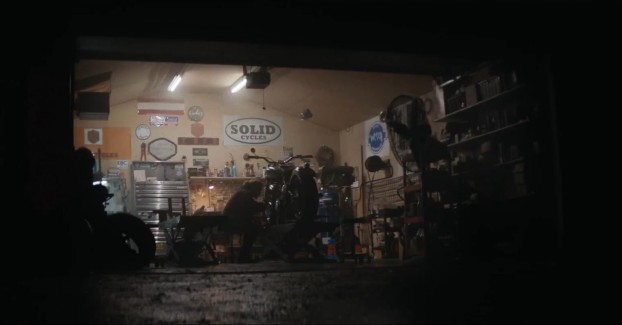 Mark's is a retailer that has its roots in hard work and industrial wear, and it hopes solidifying its new brand platform around that working-class spirit will provide a clear identity that resonates with more Canadians.
The gritty hero spot for the campaign shows a motorcycle mechanic entering a garage, talking about how hard work and determination is what makes people who they are. As he does so, we see scenes of different people who embody that spirit, from lumberjacks to ranchers to chefs. Other shorter spots in the campaign focus more directly on the individuals seen in the lead ad.

In addition to being a new platform, "Well Worn" is going to be heavily integrated into the Mark's brand going forward and appear in its visual identity (which has been slightly redesigned to have more of an "embroidered" look, as if it appears on a pair of jeans).
Taxi led creative direction on the campaign and new branding. In addition to the spots, it includes the brand's first pop-up stores, located in Toronto, Calgary and Halifax. PJ Czank, president at Mark's, says between traditional campaign assets and new initiatives like pop-up shops, this is the biggest media buy Mark's has ever put behind a campaign, which was led by Touché. Veritas is handling PR.
Mark's has traditionally performed best with boomers and, over the last few years, has shifted its target toward the slightly younger 30- to 49-year-old crowd. It's also the number one retailer for denim and industrial wear, and Czank says it has a "dominant" market share in key suburban rural markets. The goal with "Well Worn," he says, is to take that market leadership to a broader untapped audience by solidifying what it stands for.
"We have been an integral part of Canadian life since 1977, but many Canadians aren't sure what we stand for and don't see us as a store for them," Czank says. "Mark's has stood for many things over the years, and we see 'Well Worn' as an evolution of all the campaigns we've done before. It ties a lot of different things into one package that makes it a lot easier for consumers to understand why Mark's is a store for them."
Even when it comes to slightly more emotional ads like a jeans campaign the retailer launched in the summer, Mark's has been very tactical and product-focused in its marketing over the years. While that has led to strong gains in some of those categories it has focused on, like denim, Czank says the idea is to continue celebrating its "hero" categories while aligning more closely with their values.
"We want to get at that pride and respect, not only for our own industrial roots, but the journey we have taken with Canadians," Czank says. "This is for people who, regardless of what they do, they do honest hard work. That's a very clear identity that a lot of Canadians can relate to."
The pop-up shops, which will operate for up to six months depending on response, are partially meant to bring the Mark's brand directly to urban audiences. But Czank adds that it is also a learning exercise, and will be a chance to gain insights about the best opportunities to explore when it comes to reaching this new target.
On top of that, the "Well Worn" concept has been at the core of a retail redesign. Roughly 85 stores across Canada have been re-merchandised and given a refreshed product assortment, while its location in Toronto's Eaton Centre has been the first to get a full redesign. Products in key categories – namely those in men's casual fashion – have been moved to the front of the store, while the layout has been changed to provide an improved customer journey through the store that aims to emphasize how different products go together.