Cossette wins Best of the Best at CMA Awards
The agency takes the top prize for SickKids' "VS." campaign while marketing head Lori Davison is named Marketer of the Year.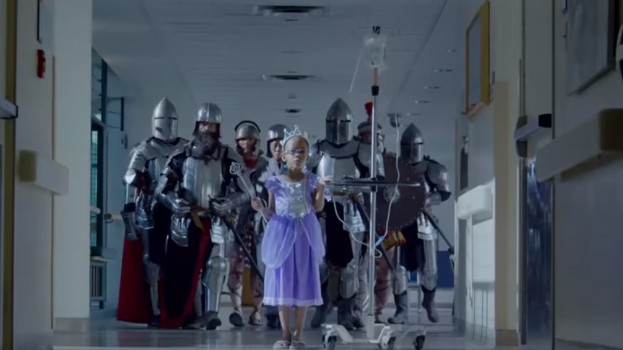 Cossette once again finds itself at the top of another awards show list after the SickKids "VS." campaign took Best of the Best at Friday's CMA Awards gala.
The campaign took home a number of other Gold wins, and Cossette also took home hardware for its work with McDonald's and Easy Period.
Lori Davison, VP of brand strategy and communications at SickKids, was named 2017′s CMA Marketer of the Year for her efforts in leading the "VS." initiative internally.
While Cossette and SickKids took the top prize, it was Ogilvy who brought in the most Gold wins for its work with Huggies, Dove and Tim Hortons.
Several agencies took home multiple Gold wins, with Anomaly, Edelman and J. Walter Thompson rounding out the top five.
The full list of winners can be found below:
Cossette: Best of the Best, 5 Gold, 3 Silver, 4 Bronze
Best of the Best
SickKids, "VS."
Gold
McDonald's, "Is It A Big Mac?": Integrated
SickKids, "VS.": Advertising / Digital / Integrated / Promotion
SickKids, "VS. 100 Today": Direct
Silver
Easy Period, "No Shame": Promotion
McDonald's, "Employer Image Campaign": Facebook Mobile Marketing Award
McDonald's, "Is It A Big Mac?": Digital
Bronze
McDonald's, "All Day Breakfast": Integrated
McDonald's, "Employer Image Campaign": Direct
McDonald's, "Is It A Big Mac?": Advertising
SickKids, "VS. 100 Today": Advertising
Ogilvy: 6 Gold, 4 Silver, 1 Bronze
Gold
Dove (Unilever), "Beautifully Real Moms": Facebook Mobile Marketing Award / Community Engagement
Huggies (Kimberly Clark), "No Baby Unhugged": Advertising / Digital / Integrated
Tim Hortons, "National Latte Launch": Promotion
Silver
Huggies (Kimberly Clark), "No Baby Unhugged": Experiential and Innovative Media
Tim Hortons, "National Latte Launch": Advertising / Experiential and Innovative Media / Integrated
Bronze
Dove (Unilever), "Look How Far We've Come": Advertising
Anomaly: 4 Gold, 1 Silver, 1 Bronze
Gold
Budweiser (Labatt Brewing Company), "Light Up The Nation": Advertising / Digital / Direct / Promotion
Silver
Budweiser (Labatt Brewing Company), "Light Up The Nation": Integrated
Bronze
UFC, "UFC 205 Can't Wait": Community Engagement
Edelman: 4 Gold, 1 Silver
Gold
HP, "In The Head of a Hacker": Advertising / Digital / Experiential and Innovative Media / Integrated
Silver
Alberta Securities Commission, "One Good Scam": Integrated
J. Walter Thompson: 4 Gold, 3 Bronze
Gold
Air Canada, "Test Drive Canada": Community Engagement / Direct / Promotion
Mazda, "Head Turner": Experiential and Innovative Media
Bronze
Air Canada, "Test Drive Canada": Digital
Tim Hortons, "Cart Thru": Experiential and Innovative Media / Promotion
Zulu Alpha Kilo: 4 Gold, 1 Bronze
Gold
Cineplex, "A Balloon For Ben": Advertising
Harley-Davidson, "1903: A Harley-Davidson Café": Advertising / Promotion
Interac, "The Story of Flash": Advertising
Bronze
Cineplex, "Lightning Popcorn": Promotion
FCB: 3 Gold, 7 Silver, 1 Bronze
Gold
Canadian Down Syndrome Society, "Down Syndrome Answers": Experiential and Innovative Media
Ontario Tourism Marketing Partnership Corporation, "Where Am I?": Digital / Integrated
Silver
BMO, "Ball Access": Experiential and Innovative Media
Canadian Down Syndrome Society, "Down Syndrome Answers": Community Engagement / Digital / Direct / Pro-bono
Ontario Tourism Marketing Partnership Corporation, "Where Am I?": Advertising / Community Engagement
Bronze
BMO, "Ball Access": Digital
OneMethod: 3 Gold, 2 Silver, 2 Bronze
Gold
ONEMETH Goods, "Canadian Apparel": Community Engagement / Promotion (2)
Silver
ONEMETH Goods, "Canadian Apparel": Community Engagement / Integrated
Bronze
ONEMETH Goods, "Canadian Apparel": Experiential and Innovative Media (2)
Lg2: 3 Gold, 1 Silver
Gold
Rethink Breast Cancer, "Give-a-Care": Experiential and Innovative Media / Pro-Bono
Tourisme Montreal, "Sorry": Experiential and Innovative Media
Silver
Rethink Breast Cancer, "Give-a-Care": Advertising
Diamond Integrated Marketing: 3 Gold, 2 Bronze
Gold
TD, "TD Thanks You": Community Engagement / Experiential and Innovative Media / Integrated
Silver
TD, "TD Thanks You": Digital
Bronze
LCBO, "2016 Ready To Drink": Promotion (w/Leo Burnett)
TD, "Back To School": Experiential and Innovative Media
Cleansheet Communications: 3 Gold
Gold
Canadian Tire, "We All Play For Canada": Advertising / Digital / Integrated
DentsuBos: 2 Gold, 3 Silver, 2 Bronze
Gold
Lexus, "Seize The Drive": Integrated
Manulife, "Mortgage Truth": Digital (w/Mindshare)
Silver
Elevation Pictures, "Snowden CCTV": Experiential and Innovative Media
Lexus, "Seize The Drive": Direct
Manulife, "Mortgage Truth": Advertising (w/Mindshare)
Bronze
Elevation Pictures, "Snowden CCTV": Advertising
Lexus, "Seize The Drive": YouTube Creative Storytelling Award
Rethink: 2 Gold, 2 Silver, 2 Bronze
Gold
Molson Canadian (Molson Coors), "Rooftop Rink": Community Engagement / Experiential and Innovative Media
Silver
Molson Canadian (Molson Coors), "Welcome Party": Community Engagement
Scotts, "Prickly": Digital
Bronze
Sports Experts (FGL Sports), "Grab-a-Gift": Facebook Mobile Marketing Award / Digital
Bimm: 2 Gold, 2 Bronze
Gold
WD-40, "Haunted Door": Canada Post Incite Award / Direct
Bronze
WD-40, "Haunted Door": Digital / Experiential and Innovative Media
UM: 1 Gold, 3 Silver
Gold
Jeep (Fiat Chrysler), "Unclimbed": Digital
Silver
Jeep (Fiat Chrysler), "Unclimbed": Advertising / Experiential and Innovative Media / Integrated
Mindshare: 1 Gold, 1 Silver
Gold
Manulife, "Mortgage Truth": Digital (w/DentsuBos)
Silver
Manulife, "Mortgage Truth": Advertising (w/DentsuBos)
Environics Analytics: 1 Gold, 2 Bronze
Gold
Royal LePage, "Your Perfect Life": Environics Analytics Data Marketing Award
Bronze
Clear Channel, "Street Furniture Planning Tool": Direct
Royal LePage, "Your Perfect Life": Experiential and Innovative Media
Havas Canada: 1 Gold, 1 Bronze
Gold
Aric Guite Photography, "#CollabWithAric": Direct
Bronze
Canadian Women's Foundation, "#GirlPowered": Community Engagement
Giants & Gentlemen: 1 Gold
Gold
Mac's (Couche-Tard), "Frosterize Your Face": Community Engagement
TrackDDB: 1 Gold
Gold
Volkswagen, "Atlas 5m Email": Direct
RBC: 1 Gold
Gold
RBC, "Personalize Mortgage Welcome Video Program": Direct
Tourism Toronto: 1 Gold
Gold
Tourism Toronto, "The Views Are Different Here": YouTube Creative Storytelling Award
Wondermakr: 1 Gold
Gold
Canadian Tire, "Red Door To Rio": Experiential and Innovative Media
Leo Burnett: 5 Silver, 1 Bronze
Silver
Gain (P&G), "Gain by Gain": Integrated
IKEA, "Cook This Page": Experiential and Innovative Media / Promotion
Yellow Pages, "The Lemonade Stand": Advertising / Experiential and Innovative Media
Bronze
LCBO, "2016 Ready to Drink": Promotion (w/Diamond Integrated Marketing)
John St.: 3 Silver, 4 Bronze
Silver
Ontario Ministry of Transportation, "It Happens Fast": Advertising / Experiential and Innovative Media
President's Choice (Loblaw), "Eat Together": Advertising
Bronze
Carly Fleischmann, "Speechless": Pro-bono
Cieslok Media, "Test and Drive": Advertising
Ontario Ministry of Transportation, "It Happens Fast": Advertising / Integrated
FCB/SIX: 2 Silver, 2 Bronze
Silver
FCB/SIX, "Cannes Meow": Community Engagement / Digital
Bronze
Drug Free Kids Canada, "The Call That Comes After": Direct / Experiential and Innovative Media
Grip: 2 Silver, 2 Bronze
Silver
RBC, "RBC Rewards": Direct
RBC, "RBC Makes 150 Count": Integrated
Bronze
Expedia.ca, "Vegas You": Direct
Taco Bell, "Steakcation": Community Engagement
Mirum: 2 Silver, 1 Bronze
Silver
Adidas, "Adidas Avenue": Community Engagement / Digital
Bronze
Adidas, "Adidas Avenue": Community Engagement
No Fixed Address: 2 Silver, 1 Bronze
Silver
Boom 97.3 (Newcap Radio), "Mixtape of You": Digital / Promotion
Bronze
Boom 97.3 (Newcap Radio), "Mixtape of You": Community Engagement
R+I: 2 Silver
Silver
EveryDrop (Whirlpool), "Fall 1:1 Campaign": Environics Analytics Data Marketing Award / Direct
BBDO: 1 Silver, 2 Bronze
Silver
Quaker (PepsiCo Foods), "Parents' Report Card": Direct
Bronze
Quaker (PepsiCo Foods), "Parents' Report Card": Digital
Rogers, "IoT From Farm to Fork": Digital
Saatchi & Saatchi: 1 Silver, 2 Bronze
Silver
Toyota, "Project 86″: Digital
Bronze
Toyota, "Street Furniture Planning Tool": Environics Analytics Data Marketing Award
Toyota, "The Toyota Sessions": Digital
DDB: 1 Silver, 1 Bronze
Silver
Destination Canada, "Found in Canada": Direct
Bronze
Volkswagen, "VW e-commerce": Direct
Union: 1 Silver, 1 Bronze
Silver
Infiniti, "Standoff": Promotion
Bronze
Infiniti, "Standoff": Experiential and Innovative Media
Captial Communications: 1 Silver
Silver
BMO, "THRIVE Aquisition Program": Canada Post Incite Award
Elemental: 1 Silver
Silver
Scene, "Scene Show-off": Integrated
Geometry Global: 1 Silver
Silver
Dove (Unilever), "#InspireConfidence": Promotion
Intercept Group: 1 Silver
Silver
Microsoft, "Office VR": Direct
Shaw: 1 Silver
Silver
Shaw, "WideOpen Holiday": YouTube Creative Storytelling Award
Bensimon Byrne: 6 Bronze
Bronze
Scotiabank, "Hockey Dreams": Advertising (2) / Community Engagement / Direct / Integrated (2)
Agency 59: 1 Bronze
Bronze
Telus, "$100,000 Small Business Challenge": Integrated
Cineplex: 1 Bronze
Bronze
Cineplex, "Oscars 2016″: Direct
Grey: 1 Bronze
Bronze
Volvo, "Thoughtful Test Drive": Advertising
Initiative: 1 Bronze
Bronze
Spin Master, "Who Will You Hatch?": Integrated
Squareknot: 1 Bronze
Bronze

Shell, "Hula Girl": Canada Post Incite Award