Volkswagen has Golf owners do the heavy lifting
Through a new online platform, prospective buyers can have their questions answered by the real experts: actual Golf owners.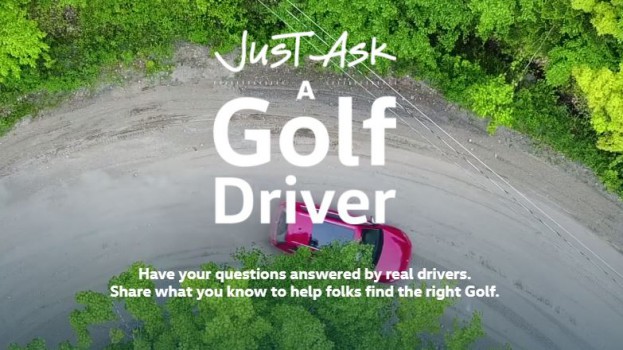 Volkswagen Canada is leaning on Golf owners to inform prospective buyers about its family of vehicles through a recently launched online platform, hoping that it will increase Golf sales.

The "Just Ask a Golf Driver" platform connects current owners with potential buyers and aims to answer the latter group's most pressing vehicle-related questions in an authentic way. The platform allows users to filter by Golf model or feature, such as design, maintenance, performance and safety.

According to the company's own research, Volkswagen owners are often the brand's biggest influencers and promoters. Rohan Lobo, CRM and loyalty manager at Volkswagen Canada, says they tend to be more engaged with the brand than owners of other vehicles. He says they're also very enthusiastic about cars, enjoy researching them through multiple channels, including blogs and forums, and tend to "very strongly value transparency."

"We thought, who better to sell you a Golf than the very people that drive them? The idea was, let's connect those drivers with people who are shoppers and who are at a mid-to-low point in the sales funnel," he says. "If they have questions, it's an authentic opinion [that they're getting] – not a corporate opinion."

As of last Wednesday, the company had recorded nearly 5,000 interactions on the platform, with approximately 3,000 responses to 1,700 questions posed. Lobo says, as of Wednesday, a single Golf owner had answered 153 questions, "all very to the point with massive amounts of detail about the cars." He sees it as an example of how engaged Volkswagen owners can be.

The Golf family comprises six separate models: the Golf, the Golf SportWagen, the Golf AllTrack, the Golf GTI, the Golf R and the e-Golf. Lobo says that makes it "ideal" for a forum-like platform, because "it's a wide-range of people who are looking for a Golf, and we thought that if we connected them with actual owners of all these vehicles, that would be something that would answer their needs and our needs in terms of our sales as well."

To increase participation, the company tapped its database of current and former owners, contacted them by email and invited them to join the forum. It also contacted potentially interested buyers by email and encouraged them to join to more learn about the Golf series.

As part of the DDB Canada-led initiative, which also includes promotion through CRM, social, digital and Volkswagen-owned channels, the company is offering a chance to win a 2018 Golf or $500 and $100 gas gift cards. With every question or answer, participants are included in the draw, with the grand prize winner being announced on Dec. 16.

Lobo says Volkswagen is currently considering extending the forum without the contest element after the draw has taken place.

Honda recently tried something similar with more of an on-the-ground approach in France, turning Honda owners' home garages into pop-up dealerships, although that initiative ended with the campaign.