Check it out: Peoples Jewellers' fishy necklace
The jewelry brand makes a one-of-a-kind gift for a pair of penguins at the Toronto Zoo.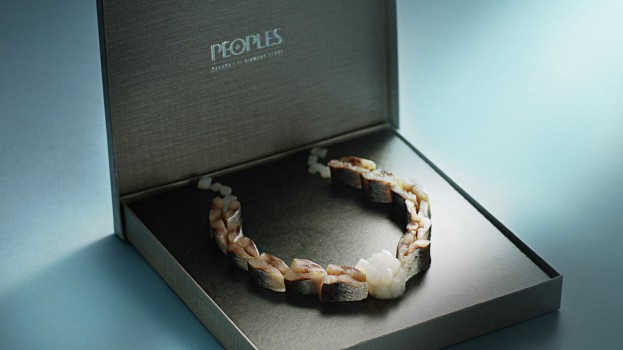 On Monday, the Toronto Zoo posted a video of a "bonded pair" of its African penguins. The video shows Chupa offering Ellie some grass he had collected as a gift, a part of the penguins' courtship display.
Romantic as it was already, Peoples Jewellers decided to help Chupa go that extra mile.
The jeweller got its own designers to work with Toronto sushi chef Kazuki Uchigoshi to craft a one-of-a-kind necklace made from the things African penguins love most – namely, the fish that make up most of their diet. John McNamara, VP of marketing at Peoples Jewellers, said in a release the idea fit with the brand's mission "to celebrate life and express love," no matter who the couple is.
The necklace – made from horse mackerel, squid and crustaceans, anchovies, pilchards and round herrings – was shared on Peoples' social channels two days later.
"We loved the idea of showcasing the courtship behaviour that exists between bonded penguin couples like Chupa and Ellie, and sharing a moment people can connect with," said Kim Haider, marketing manager at the Toronto Zoo. "The wild population of African penguins continues to be at risk, so anytime we have the opportunity to raise awareness about endangered species like African penguins, and our ongoing conservation efforts, it's a very good thing."
Juliet – a new agency founded by former JWT Canada co-workers that launched last month – was behind the campaign. Ryan Spelliscy, co-founder and CCO, says the one-off execution is emblematic of some of the work the young agency would like to do with clients.
"We're big fans of responding to things that are taking place in the real world," he said. "The response doesn't need to be supported by a massive media spend, sometimes it's just about joining a conversation in a smart, fun way. That's what this piece does. It's a quick little fun reply to two penguins in love from a company – Peoples – that's about celebrating all types of love."
This week, @TheTorontoZoo posted about Chupa and Ellie, a penguin couple that are real lovebirds! So obviously we made them a necklace only a penguin could love. Crafted in partnership with @MikuToronto and @TheTorontoZoo. #LovePeoples #PeoplesLovesLoveBirds pic.twitter.com/6ccONBwUUV

— Peoples Jewellers (@PeoplesDiamonds) November 29, 2017