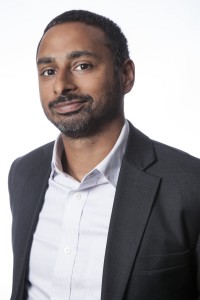 Aurora, one of Canada's more prominent medical marijuana companies, has hired a new senior vice president of global marketing, naming Savior Joseph, former president of ad agency Colour, to the role.
Joseph was promoted to president of Colour only last year, having first joined the agency (which has offices in Halifax, Toronto and New York) in 2007 as an online marketing manager. He's since overseen brand work for Nestlé Canada, GlaxoSmithKline, AstraZeneca and Mazda Canada, among others.
At the Vancouver-headquartered Aurora, he'll oversee its cannabis products globally from the company's offices in Toronto.
Aurora is Alberta's largest licensed producer in the medical market by both number of registered patients and reported revenues, and could be one of the top players in the recreational market alongside MedReleaf, Aphria and Canopy Growth, according to market research from Brightfield Group released late last year.
In an effort to expand its Canadian operations and production capabilities, Aurora presented an acquisition offer to Saskatchewan-based CanniMed in November in what would be the largest acquisition in Canada's cannabis industry. That offer was rejected by CanniMed's executives, and the company filed complaints with Consumer Affairs Authority of Saskatchewan and the Ontario Securities Commission, claiming Aurora aimed to "entice shareholders with a phantom value."
Both complaints were rejected, and CanniMed shareholders will vote on the offer next week. CanniMed also filed suit against Aurora in Ontario Superior Court on Friday, alleging "multiple claims of wrongdoing."
In addition to efforts to expand its presence within Canada, the company has been taking a global view with investments in marijuana operations in Europe and Australia.
The hiring marks another senior marketing executive moving to the cannabis industry ahead of its Canadian commercial legalization on July 1, 2018. Former MolsonCoors marketing VP Dave Bigioni joined Canopy Growth last August, former KBS Canada boss Nick Dean is now at Emblem and former Mosaic exec Jean Richer now markets the Up Cannabis brand.
Joseph officially joins Aurora Feb. 1.