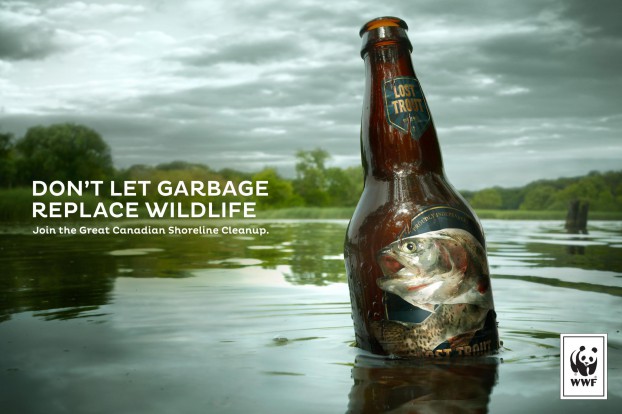 Most of the packaging you throw away might have some kind of animal mascot on it, but the World Wildlife Fund wants to show that doesn't mean it's a replacement for having the real thing in Canada's lakes, rivers and oceans.
The Great Canadian Shoreline Cleanup is a joint effort by WWF Canada and the Vancouver Aquarium that encourages people across Canada to have a positive impact on animal habitats near them by cleaning up litter along any shoreline in their community. So far in 2018, 21 cleanups have already collected 197 kg of litter along 60 km of Canadian shoreline.
To continue to get people involved, WWF Canada worked with Traffik to create a series of ads that show beer bottles, chip bags and detergent packaging that wouldn't seem out of place in any fridge or cupboard. But when that packaging becomes trash and is carelessly discarded, it can wind up on the shoreline – something the ads show is a less-than-desirable replacement for the actual animals that have been driven out of their habitats.