GM launches Maven in Toronto
The automaker's car-sharing service enters Canada with a message of affordability and access to the latest tech.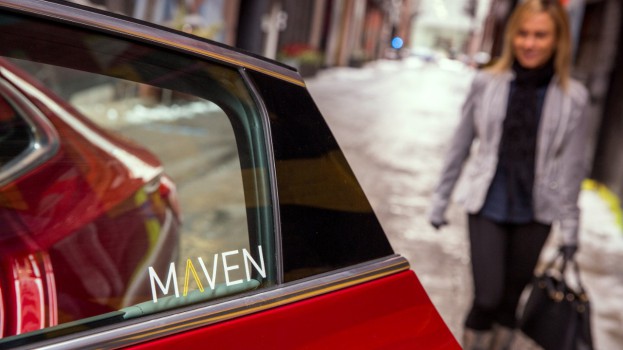 General Motors has brought its car-sharing service to Canada with today's launch of Maven in Toronto.

The newest entrant into the city's car-sharing market is starting with a fleet of 40 GM vehicles, including Chevrolet's Cruze, Malibu, Tahoe, Trax and Volt; GMC's Acadia and Yukon; and Cadillac's ATS and XT5. All of the vehicles come outfitted with OnStar, Apple CarPlay, Android Auto, SiriusXM Radio and unlimited WiFi at no extra cost.

While Maven does offer one-way trips in some of the 11 U.S. cities it currently operates, members in Toronto will only have a round-trip option available at launch, meaning the car must be returned to where it is picked up from. Maven has parking spots for its vehicles in 12 Toronto neighbourhoods.

The GM car-sharing service aims to differentiate itself from others operating in the city – such as Car2Go, ZipCar and Enterprise's CarShare – by limiting extra fees and having a newer fleet of vehicles outfitted with the latest automotive technology. Kristen Alexander, marketing manager for Maven at General Motors, says the company is emphasizing its limited fees and advanced vehicles in a campaign promoting the launch, a similar approach to when it expanded in the U.S.

"We're not first to market with a low-fee approach, but we've found it's still a great way to have people come in and experience our vehicles for the first time," Alexander says. "Once they do that, they see our cars are new and loaded with technology, and they love that elevated experience."

Maven doesn't charge members a sign-up fee or a monthly or annual subscription cost, with rental rates for its vehicles starting at $9 an hour. By comparison, Car2Go rates start at $15 and hour (with a $5 sign-up fee), ZipCar rates start at $9.25 an hour with the option of either a $70 annual or $7 monthly subscription fee (with a $30 sign-up fee) and CarShare rates start at $9.25 an hour with a $45 monthly subscription fee.

Alexander says roughly 80% of its existing user based in the U.S. are millennials. That is who the brand is targeting in Toronto as well, which means the campaign is dedicated to digital and social.

"As a brand, we believe in the idea of being there for the moments that matter most and connecting people to those people, places and things," Alexander says. "Those are also Instagram-worthy moments this generation shares on social, so there's a nice intersection where people are living their lives digitally and sharing those important moments. It also allows us to be really smart about who we're targeting, so we can continually optimize and grow our membership base quickly."

Maven will also be adding local influencer engagement and experiential events to its campaign in the coming months. Alexander says engaging the people who know the city best and being active in neighbourhoods it serves helps connect the brand with the communities where its potential members live and work.

GM engaged Dentsu Aegis to work on Maven in the U.S. in 2016, and the network's local offices supported the Toronto launch.

Maven faces competition from several startup car-sharing services in Toronto, but it's a market that could become less crowded. Last week, Car2Go said it was "reevaluating" its presence in the city after Toronto city council delayed a pilot project that would give the service additional access to parking on residential city streets – which is vital for the company, which differentiates itself by allowing members to take one-way trips and drop off vehicles within city limits.