The final piece of M&M's brand transformation
The food retailer's five-year journey culminates in a campaign designed to tell Canadians what has changed.
M&M Food Market entered the final phase of its five-year transformation on Monday, as the brand turns to informing Canadians about the recent changes to its menu and stores.
The frozen food retailer's new campaign spot attempts to place a simple message in the minds of consumers: "We've changed. For the better." Created by Cossette, the ad shows a woman inside a M&M Food Market store, pausing as she learns from reading a label that there are "no artificial colours, flavours or sweeteners" in any of the company's products. Amazed, she steps outside to make sure she's in the right store.
M&M Food Market CEO Andy O'Brien says the campaign is the next big step in the company's transformation – the final piece of a five-part brand repositioning that began in 2014, following Searchlight Capital Partners' acquisition of the company.
The retailer started by rebuilding its corporate team and relocating its head office closer to Toronto to attract new talent. It then worked to improve its food offering by removing artificial flavours, colours and sweeteners from its product line and introducing around 100 new products. O'Brien says the company has also looked to enhance the shopping experience for consumers, changing its name to M&M Food Market, adopting more contemporary packaging and testing two new store designs. To date, more than 100 stores have been renovated, with more being added to the list every month. Finally, M&M Food Market has aimed to optimize its retail network through relocating roughly 25 existing locations and opening around 45 new ones.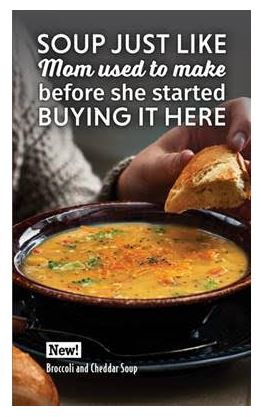 Now four years since the effort began, the company has turned to communicating those changes to Canadian consumers.

"All the hard work that we've done as a team over the last few years has prepared us for this moment," O'Brien says, "and it's time that we told Canadians that we've changed."

In addition to running the national TV spot, the company is using social media to highlight the quality of its new food offering. Future social efforts will include seven product-focused spots. In-store, POS signage is being used to reinforce the campaign's core messaging. O'Brien says the retail space presents a number of opportunities for the brand, since unlike other retailers, M&M "controls the environment that we sell our products in."

The current campaign will run until the summer, but O'Brien expects its messaging will remain consistent over the next three years, with added campaign elements focusing on new products or store openings. Media Profile is on PR.

Since 2014, the company has seen improvement across KPIs, including average basket size and overall consumer satisfaction, according to O'Brien. M&M has recorded three straight years of gains in same-store sales.