Secrets to success in cannabis marketing
48 North's Alison Gordon talks to marketers about how to build brands in an uncertain industry.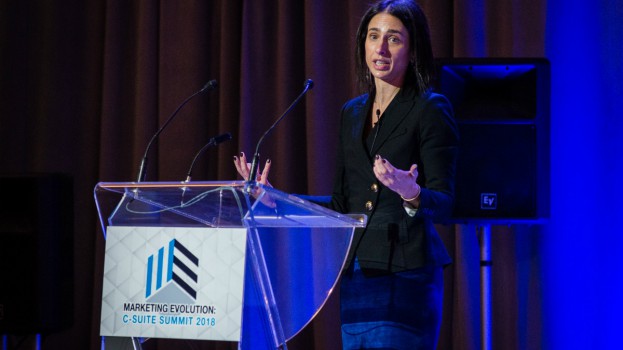 As the CEO of 48 North, Alison Gordon (like every brand leader in the burgeoning cannabis industry) faces a lot of uncertainty. Cannabis marketing regulations remain undefined for the imminent recreational market, and provinces are launching differing retail strategies to sell recreational marijuana.
But those hefty challenges are clearly not enough to keep investment and talent away. Every week, it seems, more marketing executives join the industry.
Speaking at the recent Marketing Evolution: C-Suite Summit, Gordon showed what's possible in this emerging – and potentially huge – market and how companies are trying to build brands despite regulatory challenges.
It's about the brand, not the product
Currently, 48 North sells medical dried cannabis flour – the material that's typically smoked in a joint or pot paraphernalia. But according to the company's research, 50% to 60% of revenues in mature U.S. markets come from the sale of "extracted" and associated products such as THC-free edibles, tinctures, creams and accessories like vape pens.
This is where the opportunity for brand building truly resides, Gordon says. She points to companies like Lord Jones that have found success with distinct, high-end brand identities and taken advantage of this lifestyle-focused approach.
However, Canadian firms selling products with cannabinoid ingredients face the regulatory possibility that they will be forced to avoid lifestyle comparisons, decorative packaging or many creative options when marketing.
"Essentially, what companies are doing in our space is creating parent companies. Under those parent companies are the licensed facilities regulated by Health Canada. But nothing's stopping you from creating another company or product that doesn't have cannabis in it – a cannabis lifestyle product or something that's somehow related."
New brands that are cannabis-free, she says, offer a solid foot in the door.
Gordon points to San Rafael '71 brand as an example of a company trying to find fridge and shelf space inside the home with a non-cannabis product, making it ready if and when regulation allows for a formulation change. Parent company MedReleaf partnered with Amsterdam Brewing Co. on a weed-free beer that bears its San Rafael branding. It's an Amsterdam product, "but in time, the plan looks to be able to bring that beer in-house and use it as their recreational brand."
Being Canadian helps, a lot
Regulatory uncertainty aside, Canada's laws make it far easier to build a cannabis brand here than in the U.S., where most other global product empires are built. This makes Canada a possible launch point for whatever the world's leading weed brand turns out to be. America's complex federal and state laws hamper individual companies from easily gaining national recognition. Because cannabis can't cross state lines and licensing operates state by state, branching into new markets requires starting the regulatory process from scratch each time.
Canada, meanwhile, allows for the import and export of medical cannabis products across provincial and national borders, allowing branding to travel with the product.
"So the market size for us is a lot bigger than just Canadians," Gordon says. "The opportunity is so huge… the biggest superpower, the U.S., isn't able to dominate in the way they usually would."
Not that this market is a paltry one. Statistics Canada reports there are approximately 2.05 million Canadians who identify as "regular users" of cannabis, with 1.3 million men making up the majority of that group. StatsCan reports an additional 2.41 million people who do not currently use the product but say they intend to start post-legalization. Interestingly, this "intenders" group is far more evenly split between men and women (1.19 million men and 1.21 million women).
Gordon says it's reasonable to think that those numbers should actually be higher too, as "most people probably don't want to report on cannabis just yet," given its illegality. For that reason, she says, the estimated size of Canada's post-legalization market has quite a range: $5 million to $9 billion.