The Quick Fire: Essential trends for marketers
JWT Intelligence's Lucie Greene dissects The Future 100 report to highlight consumer-led trends shaping modern brands.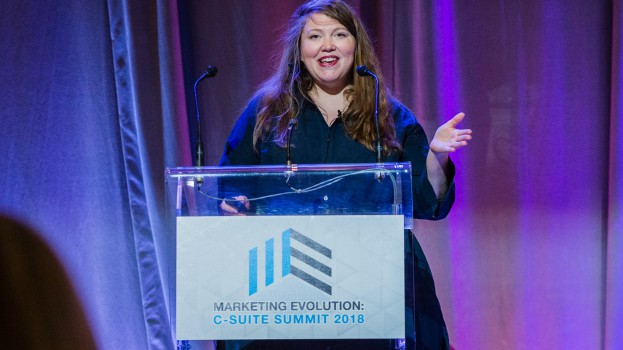 Trend spotter Lucie Greene, worldwide director of The Innovation Group at JWT Intelligence, was in Toronto recently to talk to marketers about what her company sees as the major forces changing consumer expectations. Armed with hundreds of pages of trend research found in JWT's The Future 100 report, she highlighted some insights for senior marketing attendees at strategy's Marketing Evolution: C-Suite Summit.
Her research covers a lot (literally 100 trends across culture, technology, branding, health and retail). But she zeroed in on the handful of issues she feels CMOs must consider when building and marketing consumer-facing products. Unsurprisingly, Amazon is a big part of her trend-spotting for its retail innovations.
Connected eyes, connected ears
"We looked a lot at how we interact with the internet, not just in marketing and retail. The tide is shifting away from buttons on a screen to something more ambient – cameras that are seemingly just in the air. It's things like photo recognition for financial IDs, or Ant Financial launching "Smile to Pay" for KFC. In China, when you go to KFC, you simply smile to get your fried chicken.
"Increasingly, that [technology] is being connected with the internet of ears, the Amazon Echo et cetera. It's so interesting to me that even two years ago something like that seemed incredibly futuristic and yet it has reached critical mass very quickly. Gartner already estimates that 50% of internet searches [using phones] are done verbally now. These devices are enormous business. Amazon is up to approximately 10 million units sold in the U.S. alone with the Echo… Also, thanks to things like Echo Look, Amazon is co-opting what we might have done before, where we'd search for information on Google and then go onto Amazon to shop. Now we're doing both in a concentrated way on Echo. And if people are sharing videos through the platform, it's almost becoming a social network too."
The intersections of representation
"Consumers, and particularly women, are really concerned with representation: how they're represented in media and advertising campaigns. We see the rise in terms like 'intersectionality,' a much more nuanced view of diversity. For example, you're not just a black person, you're a black woman or maybe a black gay woman. Nothing is in a silo."
Unbranded, but upscale
"Brandless is one of the growing waves of brands positioning themselves almost as anti-brand. They're a direct-to-consumer brand where everything is $1 to $3, but interestingly everything is GMO-free and organic. It has no brand, but very premium design cues… It's spawned competitors that offer luxury-grand cosmetics at a fraction of the price [of mainstream competitors].
"This exists at a time when brands in general are in flux. While we've seen private label for a long time, we're seeing a shift in how private label is being executed. They're becoming brands that feel like premium brands that can compete head-to-head with the existing brand landscape. Drew Barrymore teamed with Amazon on a fashion brand. If you visit that store in New York, it actually feels like Tory Burch. There's no sign of Amazon anywhere. Amazon is introducing premium athletic wear and using incentives like Amazon Prime to incentivize purchase over competing brands."