Alberta Securities Commission drops 'The F-Word'
The organization takes a humorous approach to its annual work around Fraud Prevention Month.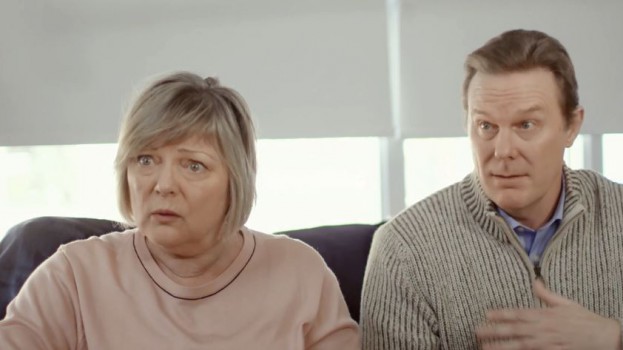 Many Albertans are so uncomfortable about their financial literacy skills that they would consider a test on them to be about as enjoyable as going on a blind date or swimming with sharks.
Those improbably high levels of discomfort were one of the key insights gleaned from a recent survey by the Alberta Securities Commission, the regulatory agency that administers the province's securities laws. It also served as the backbone of the ASC's new "The F-Word" campaign – "F" meaning finances, of course.
Edelman is leading the campaign, part of the ASC's annual work around Fraud Prevention Month.
A minute-long spot, running until the end of the month, shows parents sitting down to have "the talk" with their adult child – an awkward scenario for anyone – but it turns out the topic of conversation is making safe investment decisions. The ad invites viewers to visit CheckFirst.ca, which includes "Investor 101" videos and other free tools to learn about investing.
The campaign took a more humorous slant this year in an effort to be memorable, says Alison Trollope, director of communications and investor education at the ASC. Last year's "The Perfect Scam" campaign was more serious in its attempt to be bold. Creative for that campaign included a fictitious financier and investment firm to show that anyone can be a victim of fraud.
"The Perfect Scam" showed the ASC that it could be bold "within the boundaries of good taste," says Trollope, and that "people will listen if we are creative about our approach."
ASC targets a broad audience, basically "anyone who could or is investing," says Trollope. This year, it set out to reach younger audiences through a digital push and to round out that demographic with earned media generated by its survey. On March 28, ASC will be testing consumers' knowledge during an interactive game show on Facebook Live called "Fact or Fraud," featuring financial expert Kelley Keehn.
Albertans will be able to put their knowledge, and their fears, to the test.
"Part of our campaign is to rely on what we know and are comfortable in using – online advertising, earned media, things like that," says Trollope. "But we always try to look at new platforms to see if there might be a cost-effective way to reach people."