Molson Export puts the shine back on depanneurs
The beer brand gives Montreal's convenience stores a vintage facelift for the return of its stubby bottle.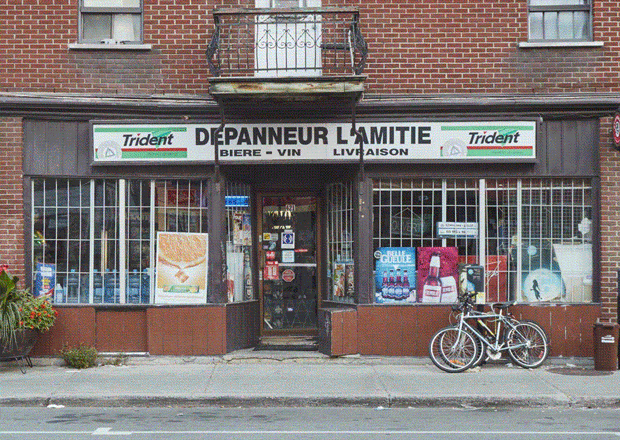 Molson Export has paid tribute to a simpler time in Montreal's history by give a new look to some of the city's convenience stores.
Dépanneurs, as locals call them, are ubiquitous in Montreal and they tend to be where people buy beer. But over the decades, many of their exteriors have fallen into disrepair.
"You can tell they were nice at some point, but they've been beaten up over the years," says Jean-Francois Dumais, creative director at agency Sid Lee. "They are something that's core to the city, which is under huge transformation right now, with all the streets getting remade and construction going on everywhere."
Molson also brought back the vintage "stubby" bottle format for its Export brand last year. In honour of the occasion, the brewer and agency gave 25 dépanneurs a face lift. The new decors aimed to recreate the look and feel of 1970′s Montreal, when the stubby bottle could still be found on store shelves before it was phased out in the '80s. The stores were also decked out in Export's shade of red, as well as with posters of the bottle and images of the iconic Export ship logo.
Dumais says the goal of the project was twofold. First, it was to celebrate a simpler time in Montreal's history and culture, one that Molson has strong ties to. The brand established its first brewery in Montreal in 1786, and Export is the company's oldest beer.
"This is one of the few briefs that wasn't asking us to reach millennials," Dumais says. "We didn't want to do something that was trendy right now. We wanted to pay homage to a golden era of the city, when things were less complicated. Anyone my age has a few old pictures of their dad or uncle holding an Export stubby."
Since dépanneurs are such a popular place to buy beer, Dumais says the other element of the project was to put some "shine" back on one of the main places people in Montreal experience the Molson Export brand.
"When you're walking in front of a dépanneurs, all you see are beer posters," Dumais says. "But they haven't been maintained and they don't think about branding too much. It was trying to give love back to places that are so important to a neighbourhood. It was natural to associate Molson with those places and really make them ambassadors of the brand again."