Hiku partners with Jackman on retail strategy
The consultancy will help form the customer experience in cannabis dispensaries run by Tokyo Smoke's parent company.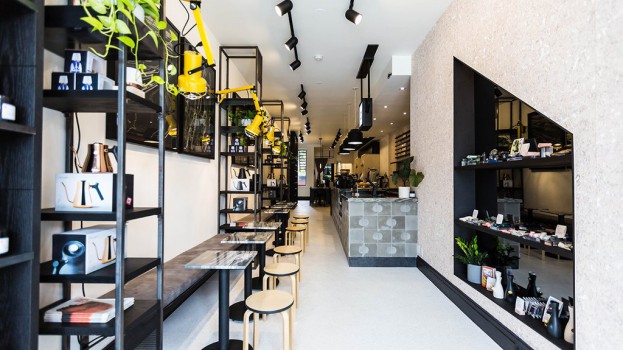 A Tokyo Smoke location on Queen West in Toronto.

Cannabis company Hiku has entered a partnership with brand and strategic design consultancy Jackman Reinvents to help shape the customer experience in its retail locations.

Hiku was created early this year after Tokyo Smoke – an upscale retailer of cannabis accessories and lifestyle products – merged with licensed cannabis producer Doja to create the new company.

Hiku touts itself as the first cannabis company with vertically integrated operations, and the merger gave it the ability to sell legal cannabis alongside its roster of lifestyle products in the previously weed-less Tokyo Smoke retail locations (in provinces where private retail of cannabis is being allowed). Hiku's operations also include Van der Pop – a female-friendly cannabis lifestyle brand that Tokyo Smoke acquired last year – and Maitri – a high-end, Quebec-based cannabis accessory and design brand Hiku acquired shortly after its launch.

As part of the new "strategic collaboration," Jackman will help Hiku develop a "blueprint" for dispensary locations in select provinces, with a focus on forming a "robust retail presence and meaningful brand differentiation." Both Alan Gertner, CEO of Hiku, and Joe Jackman, CEO of Jackman, emphasized in a press release that they were particularly driven to create a "best in class" customer experience.

Tokyo Smoke currently operates five locations in Toronto and one in Calgary. It's first U.S. location in Seattle is set to open in the near future, and the brand also has plans for locations in Hamilton, Vancouver, Montreal and Regina. However, at the time of its merger with Doja, the company said it would be prioritizing future expansion in provinces where private retailers have been permitted to sell recreational cannabis. That includes Alberta, Newfoundland and Labrador, British Columbia, Saskatchewan and Manitoba.

Last month, Hiku was one of four retailers awarded a license to operate cannabis stores in Manitoba. The company will be operating dispensaries in Manitoba under its Tokyo Smoke brand, though it has not yet been determined how many locations it will be running under the license.

As part of the agreement, Hiku will issue $800,000 worth of common shares of the company to Jackman. Half of those shares have been issued immediately, with 12.5% to be issued over three month intervals over the next year.