Agropur takes an animated approach in new creative
The dairy cooperative's second masterbrand campaign tries to drive home the economic benefits of its business model.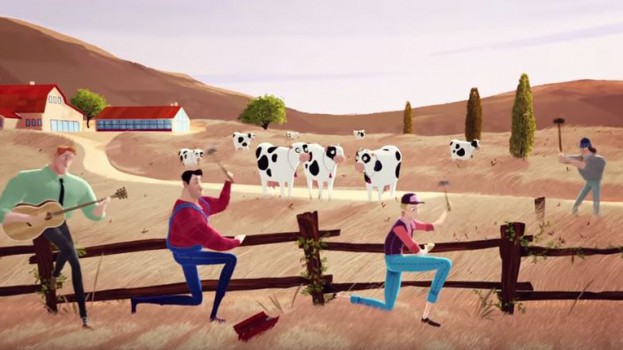 With its second national masterbrand campaign, Canadian dairy cooperative Agropur has turned to informing consumers about the economic benefits of purchasing its products.
The 30-second animated TV spot takes viewers from the farm, where its products originate, to the production facilities, ice cream vendors and communities its supports, reminding consumers that "when you buy Agropur products, you support the Canadian economy."
The work is being led by Lg2, with Touché overseeing media duties.
The animated approach stands in sharp contrast to last year's creative, which featured farmers and dairy workers bumping fists and creating a beeping sound reminiscent of a checkout scanner.
With the new ad, Agropur wanted to differentiate itself with the many other dairy commercials on TV, while conveying a "less classical and corporate image," says Mylène Couture, the brand's marketing director. The spot is meant to be "fun, dynamic, modern and friendly" and to lead viewers "to understand the different stages of milk transformation while emphasizing the impact of the cooperative on the community liveliness." It tested three different commercials with consumers and found the animated version was the most impactful. It has nevertheless kept the "beeping" sound from its last campaign, believing that the sound is part of the message.
The ad is running on TV for six weeks and is being supported with digital and social, including an influencer and blogger program, as well as a shopper activation. For the next eight to 10 weeks, a team dressed as dairy workers will drive a shopping cart designed as a delivery truck and engage with customers in store, explaining how Agropur works and how it supports farmers and communities. They will also be handing out coupons to encourage customers to purchase its line of products, which includes the Natrel, Iogo and Oka brands.
"When you buy a product from Agropur you are actually choosing to contribute to the Canadian economy," says Couture.
Under the cooperative model, dividends are distributed to its members and farmers in local communities. Couture says that when people learn how the cooperative works, their purchase intentions of Agropur products rise sharply.
That messaging works particularly well with millennials, the brand's target consumer segment, who "have a conscience" and want high quality products that also contribute to the economy, says Couture. "The reality is they want to make a difference, but they really  want the company or the brand to be the difference."
Headquartered in Montreal, the cooperative is best known inside of its home province and within Ontario. The national campaign is meant to increase awareness across the country, but particularly in the west, where it remains relatively low.