M&Ms brings 'Flavour Vote' to Canada
Mars Wrigley hopes to make consumers take notice and find new ways to engage with the brand.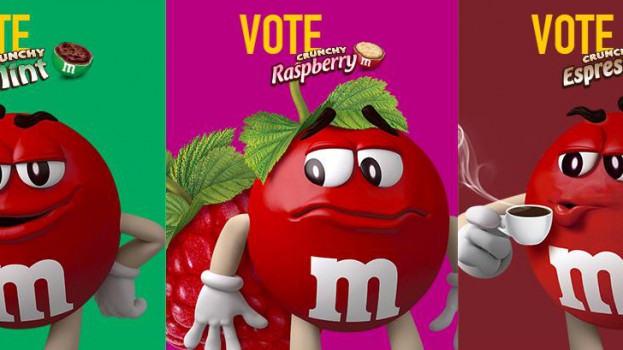 M&Ms has launched its "Flavour Vote" program in Canada, giving consumers locally a host of new ways to engage with an established and well-known chocolate brand.

The brand has released three new flavours for its Crunchy line that are currently available for a limited time in stores: espresso, raspberry and mint. After trying them, consumers are encouraged to vote for the one they want to have a more permanent presence on store shelves.

Consumers can vote by visiting the promotion's microsite and selecting their favourite flavour, or by uploading a selfie with a sticker representing their choice. They can also vote on Instagram and Twitter by using one of the campaign hashtags. Voting opened this week and runs until May 25, with the winning flavour available for 18 months beginning in August.

M&Ms first launched a flavour vote in the U.S. to commemorate the brand's 75th anniversary in 2016. The program has been a success, resulting in 52% growth incremental to the category, and Diana Frost, VP of marketing at Mars Wrigley Confectionery Canada, says there was also consumer demand to bring the promotion to Canada as well.

Frost says that while Mars Wrigley has done limited edition products and flavours in the past, it hasn't opened up a consumer vote in the Canadian market.

"It's something we've seen other brands do and something we think fits so well with M&Ms," Frost says. "Within confectionery and chocolate, consumers have a lot of choice. Consistently bring variety to a well known brand is something that we try and do. It's a new way to engage with the brand and surprise and delight consumers with new flavours from a brand they already know and love."

The program is being promoted with a full media mix, including ads on TV, online, preroll, in cinema, social, sampling and out-of-home. It will also feature influencer engagement, something Frost says will help keep consumers engaged with the program through its duration.

"Because it's ongoing on social, you can play off how the different flavours are doing," she says. "Influencers can pick their favourite and garner a conversation with consumers about their own favourite. That's something that gets them to really follow the vote that way as it goes along."

Influencers will also be present at the "Flavour and Fun Shop" in Toronto, which opens to the public on Friday and will be running until April 10. The pop-up will feature sampling, giveaways, photo opportunities and the chance to vote in person. Frost says the shop adds yet another platform for the brand to interact with consumers and engage them with the program, but adds that the content opportunities will allow people from across the country to experience what is going on there.