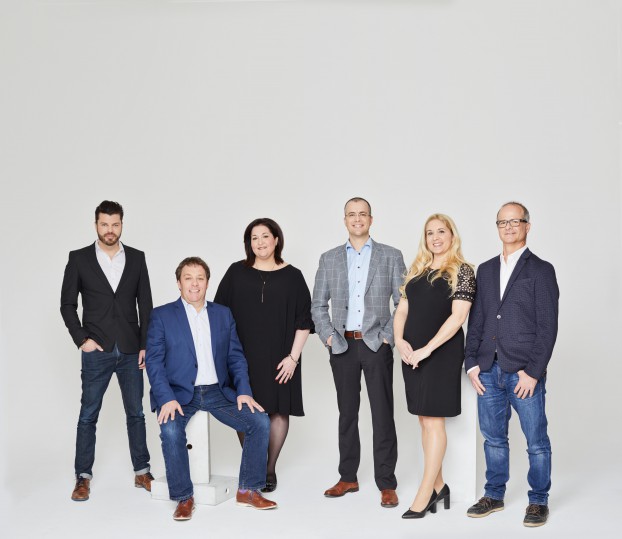 A handful of Ogilvy's leadership team in Montreal and Quebec City, from left to right: Etienne Bastien, CCO, Ogilvy Montreal and Quebec City; Dany Renauld, president, Ogilvy Montreal; Stephanie Laurin, EVP, finance and administration, Ogilvy Montreal and Quebec City; David Aubert, CEO, Ogilvy Montreal and Quebec City; Caroline Gauthier, EVP, account services and global integration, Ogilvy Montreal and Quebec City; and Martin Bernier, president, Ogilvy Quebec City.
Ogilvy has acquired Quebec agency Brad, expanding its skill sets and presence within the province as it becomes one of the top five largest agencies in Canada.
All of Brad's clients, which include Volvo Group, Fairmont Hotels, BRP, Irving and the Government of Quebec, are expected to make the transition to Ogilvy. All of Brad's roughly 175 staff are also expected to make the transition, bringing Ogilvy's headcount in the Canadian market to over 325. Brad staff in Montreal will be moving into the Ogilvy Montreal office in the near future, with the office in Quebec City becoming Ogilvy Quebec.
Brad's co-presidents will remain in leadership roles at Ogilvy: Martin Bernier will become president of Ogilvy Quebec and Dany Renault will be president of Ogilvy Montreal. They'll both report to David Aubert, previously president and CEO of Ogilvy Montreal, who will now serve as CEO of both Ogilvy Montreal and Ogilvy Quebec. Carle Coppens, VP and CD at Brad, will lead the Quebec creative department alongside Étienne Bastien, who was hired as CCO for Ogilvy Montreal last year.
While the acquisition will give Ogilvy a presence in Quebec City for the first time, Aubert says the driving factor behind the acquisition was expanding the agency's talent, creative and adding more depth to the services it offers. In particular, he says the addition of Brad's design team will be particularly valuable, as the design practice at Ogilvy Montreal was relatively small and more clients were seeking out design services.
A little over a year ago, Ogilvy announced a global restructuring meant to reduce sub-brands and improve efficiency across the network. John Seifert, worldwide chairman and CEO of Ogilvy, says the agency sees "20 to 25 markets" being core to the network's global strategy, with Canada being an important part of that model.
"We see these markets being more connected than ever," he says. "It's less about the historical model of dots on a map that follow clients and they expand geographically, and more about diversifying our cultural perspective and talent strategy. That way, we can deploy people on big global brand challenges that can be solved from any number of places."
Seifert points out that Ogilvy Canada has a history of working with global clients on campaigns that have been used around the world – such as Dove and Huggies – while Aubert says that several Brad clients have expressed excitement at the prospect of having access to talent in Ogilvy offices in Toronto and the U.S. as part of their own expansion goals.