SickKids unveils new Mother's Day push
The latest extension of the hospital's "VS" platform explores the only thing that matters to parents of sick children.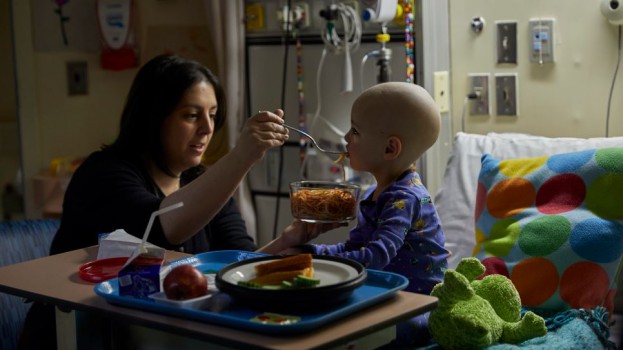 SickKids is approaching half of the $1.3 billion it needs to build a new hospital, a milestone it hopes to make official in the fall, roughly one year after having announced the goal with its "SickKids VS All In" spot.
The announcement will mark an important milestone for the hospital, which has embarked on what it has called the largest fundraising effort in Canadian health care history. But for Lori Davison, who leads the marketing efforts for SickKids Foundation as VP of brand strategy and communications, the work is far from over.
"Only $650 million left to go," she says.
With the launch of a new "SickKids VS: Nothing" campaign geared towards Mother's Day – and another effort planned around Father's Day in June – the hospital continues to forge ahead on its mission to raise funds and, ultimately, build a much-needed new hospital.
The Cossette-led campaign launched April 20, complementing and, in some ways, contrasting last year's "MomStrong" campaign. That campaign was based on the insight that parents look to put on a brave face when faced with adversity, especially when it comes to their health of their children.
"This year, we went a bit closer in to Mother's Day specifically," says Davison. "If you're a parent caring for a very sick child, it's a unique emotional space to be in, but it's one where everything else in life becomes inconsequential, because nothing else matters."
"One thing that we have really tried to do with the VS platform is explore a lot of different human truths that are particularly poignant in the context of a children's hospital," adds Davison. "This is just another one. This is a way of giving people a breadth of perspective about what it's like for these SickKids families, day in day out."
Like last year, the new campaign is aimed at encouraging families to give their mothers a SickKids Get Better Gift as their personal Mother's Day present.
Also similar strategy to last year, the hospital will be rolling out a second campaign ahead of Father's Day on June 17. Although, this time, SickKids will be running with the same "DadStrong" creative, since the spot wasn't amplified as much as "MomStrong" was last year. Davison says the focus for Father's Day will be giving last year's ad more exposure.
For both occasions, SickKids will also be running with real parents' stories through an earned media push. The parents are, after all, "important members of the SickKids family," says Davison, and as such, are often the recipients of the funds raised.
"One crucial aspect of child health outcomes is that family support around them," she says. Part of donors' money goes towards ensuring the family unit stays strong through trying times. For example, a volunteer-staffed playroom may be funded by donors so that siblings can play while the other child is undergoing treatment.
In terms of donor behaviour, Davison says people tend to procrastinate – even when it comes to Mother's and Father's Day. To compensate, SickKids will turn to more acquisition-based marketing techniques closer to the date, serving digital ads that viewers can click through and take immediate action, after having pushed the more emotive video creative.
Davison says she expects more one-time gifts to be given during Mother's and Father's Day, given that they are occasion-based. But the hospital continues to see growth in its monthly-donor acquisition, and "that for us, has the largest impact."