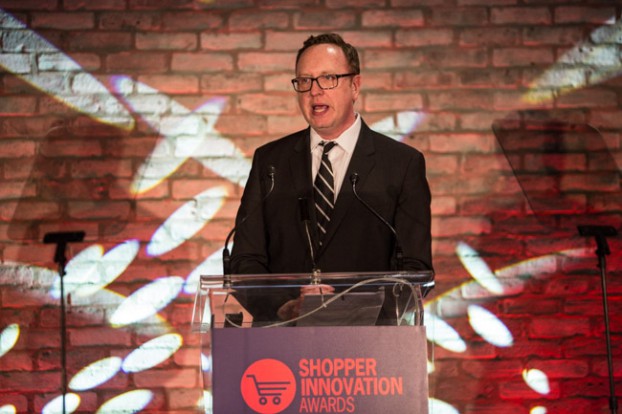 There were some familiar faces accepting awards last night at the Shopper Innovation Awards, recognizing the best in shopper marketing and retail-focused campaigns.
Taking home the Commercial Grand Prix was Ogilvy Canada and Huggies for "No Baby Unhugged." The top prize was one of many for Ogilvy, which also won for work with Tim Hortons, Dove and Cottonelle.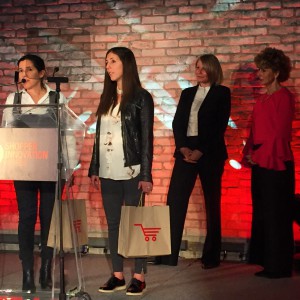 Cossette and SickKids added the Public Service Grand Prix to the long list of prizes that have been awarded to their "VS" platform. The "MomStrong" and "DadStrong" spots as part of the "VS" platform were also recognized at the show, while Cossette also took home awards for the Banff Centre for Arts and Creativity, McDonald's Canada and General Mills.
Other big winners at the gala included Rethink – which won for campaigns with A&W, Sports Experts, COSTI Immigrant Services, WestJet, Branch Out Neurological Foundation and Starlight Children's Foundation – and Lg2 – which won for projects with Boreale, Les Producteurs de lait du Québec, Ultima Foods and Quebec's Tourism Alliance.
As part of the Shopper Innovation Awards gala, strategy also recognized the publication's Retail Innovator of the Year, Best Buy, for its efforts to create modern "experience stores" and vendor-specific areas that keep customers engaged at retail.
You can read about the Grand Prix-winning work from Huggies  and SickKids now. The full list of winners can be found below, with in-depth looks at the winning trends, insights and strategies that earned brands and agencies awards this year rolling out on strategy over the coming days.
Commercial Grand Prix
Huggies (Kimberly-Clark Canada), Ogilvy Canada: "No Baby Unhugged"
Public Service Grand Prix
Reinvention
Bronze A&W, Rethink: "Root Brewery"
Bronze (Public Service) Banff Centre for Arts and Creativity, Cossette: "Things You Can't Unthink"
In-Store Engagement
Silver China Zheshang Bank, Shikatani Lacroix: "CZ Bank"
Gold IKEA, Leo Burnett: "Cook This Page"
Brand New!
Silver Tim Hortons, Ogilvy Canada: "Perfectly Uncomplicated Lattes"
Silver McDonald's Canada, Cossette: "Is it still a Big Mac?"
Made a Splash! Seasonal/Event Success
Silver PepsiCo, BBDO: "Snap it with Pepsi"
Gold Mr.Clean (P&G), Leo Burnett: "Cleaner of Your Dreams"
Gold WD-40, BIMM: "Haunted Door"
Changing Behaviour
Silver Les Producteurs de lait du Québec, Lg2: "Milk. Solid stuff."
Silver Boréale, Lg2: "Brand Relaunch"
Small Budget, Big Impact
Bronze Dunkaroos (General Mills Canada), Cossette: "Smugglaroos"
Gold Boréale, Lg2: "Brand Relaunch"
Gold WD-40, BIMM: "Haunted Door"
Tech Breakthrough
Bronze Ben & Jerry's (Unilever Canada), Mindshare: "On Demand Ice Cream Chatbot"
Bronze WD-40, BIMM: "Haunted Door"
Gold Sports Experts (FGL Sports), Rethink: "The Thermal Discount"
Bronze (Public Service) COSTI Immigrant Services, Rethink: "Ahlan Bear"
Gold (Public Service) Branch Out Neurological Foundation, Rethink: "Stranger's Voice"
Targeting
Bronze Cottonelle (Kimberly-Clark), Ogilvy Canada & Mindshare: "Canada Strokeable Billboards"
Gold Harley-Davidson, Zulu Alpha Kilo: "Common Ground"
Bronze (Public Service) Branch Out Neurological Foundation, Rethink: "Stranger's Voice"
Silver (Public Service) SickKids, Cossette: "SickKids VS: DadStrong"
Gold (Public Service) SickKids, Cossette: "SickKids VS: MomStrong"
Packaging
Silver Ultima Foods, Lg2: "Olympic Packaging"
Gold Boréale, Lg2: "Brand Relaunch"
Original Idea
Silver (Public Service) Starlight Children's Foundation, Rethink: "Ward+Robes"
Silver (Public Service) Branch Out Neurological Foundation, Rethink: "Stranger's Voice"
Gold (Public Service) SickKids, Cossette: "SickKids VS"
Gold IKEA, Leo Burnett: "Cook This Page"
Custom Retail
Bronze Budweiser (Labatt Breweries of Canada), Anomaly: "Budweiser Stage"
Integration
Bronze Alliance de l'industrie touristique du Québec, Lg2: "A Room with Many Views"
Gold PepsiCo, BBDO: "Snap it with Pepsi"
Out of the Box Retail
Bronze Sports Experts (FGL Sports), Rethink: "Grab-A-Gift"
Bronze Sports Experts (FGL Sports), Rethink: "Scrolling Marathon"
Silver IKEA, Leo Burnett: "Cook This Page"
Silver PepsiCo, BBDO: "Snap it with Pepsi"
CSR
Gold Canadian Tire Jumpstart, Community Agency: "Give A Toast"
Made You Look! Awareness/Trial Breakthrough
Bronze IKEA, Leo Burnett: "Cook This Page"
Silver Dove (Unilever), Ogilvy Canada: "Real Beauty Filter"
Silver Cottonelle (Kimberly-Clark), Ogilvy Canada & Mindshare: "Canada Strokeable Billboards"
Original Idea
Bronze Canadian Tire Jumpstart, Community Agency: "Give A Toast"
Gold Harley-Davidson, Zulu Alpha Kilo: "Common Ground"
Gold WD-40, BIMM: "Haunted Door"
Bronze (Public Service) Casey House. Bensimon Byrne/OneMethod/Narrative: "Break Bread Smash Stigma"
Partnering
Silver WestJet/LVCVA, Rethink: "Desert Roulette"
Silver PepsiCo, BBDO: "Snap it with Pepsi"
CRM & Loyalty
Bronze Boston Pizza, ICF Olson: "Boston Pizza Team HQ"
Path to Purchase/Out-of-Store
Bronze McDonald's Canada, Cossette: "Is it still a Big Mac?"
Silver Sports Experts (FGL Sports), Rethink: "The Thermal Discount"
Silver PepsiCo, BBDO: "Snap it with Pepsi"
Gold Reactine (Johnson & Johnson), UM: "Hyper-Targeted Pollen Alerts"
Integration
Silver Harley-Davidson, Zulu Alpha Kilo: "Common Ground"
Silver (Public Service) Casey House. Bensimon Byrne/OneMethod/Narrative: "Break Bread Smash Stigma"
Gold (Public Service) SickKids, Cossette: "SickKids VS"
Reinvention
Bronze Les Producteurs de lait du Québec, Lg2: "Milk. Solid stuff."
Bronze WD-40, BIMM: "Haunted Door"
Bronze (Public Service) Casey House. Bensimon Byrne/OneMethod/Narrative: "Break Bread Smash Stigma"
Gold (Public Service) SickKids, Cossette: "SickKids VS"