F8 announcements marketers should care about
From data to AR to the growing popularity of Stories, what you should take away from Facebook's annual developer's conference.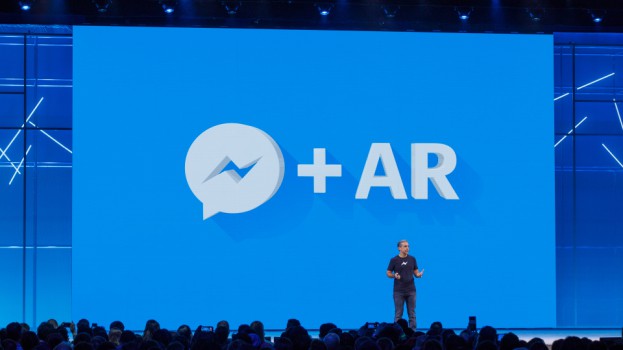 Between talks of video chat features, dating apps and VR headsets, it's easy to get lost in all the news that came out of F8, Facebook's annual developer's conference.
But several of this week's announcements could have implications for the way marketers and advertisers do business in the near future. So to get you up-to-speed, we took a closer look at some of the areas you should be paying attention to.
Tools that give users control of data collection are coming
Privacy and data collection go hand-in-hand with discussions about Facebook (especially following the Cambridge Analytica data breach), and it was certainly top-of-mind at F8.
During Mark Zuckerberg's keynote on the first day of the conference, it was announced that Facebook was developing a new tool called "Clear History." The tool would allow users to see which apps and websites send data to Facebook, delete any information that is already stored and opt-out of future data collection (Facebook not only collects data from users on its site, but from any site that uses features like Facebook Analytics or has a "like" button).
Even if the user has this function turned on, Facebook will still collect data about their online habits, but they will not be associated with a particular person or account, and only used to provide partners with aggregated analytics for insight gathering and research.
While the company has said that this will likely result in a less personalized experience while it "relearns" a user's preferences, "Clear History" is still being built and it is unclear to what degree this will affect ad targeting capabilities on the platform. This could have an impact on things like retargeting, which relies on receiving data from other websites to serve ads on Facebook, though the company could also accomplish this with other data sources, such as cookies in a person's browser history.
AR possibilities are growing
At last year's F8, Facebook announced it would be launching Camera Effects, a platform that allowed outside developers to create their own filters or augmented reality experiences. This year, the platform announced it would be bringing the same capabilities to Instagram. This is yet another way Facebook and Instagram are continuing to compete against Snapchat, which has been expanding its own options for brands that want to create branded AR experiences in the app.
The company also announced that it was giving brands the opportunity to bring AR capabilities to conversations with consumers in Messenger.
Beyond the "fun" filters people might associate with AR on social, Facebook also pointed towards more functional applications – such as product trial, walkthroughs or demos – through Messenger, which is becoming an increasingly popular platform for customer service and product recommendations, whether it is manned by a human or a bot (During F8, Facebook's VP of Messaging products, David Marcus, said there are currently 300,000 monthly active business bots operating on the platform).
Initial partners for AR on Messenger are Nike (giving customers early access to a new sneaker after an AR scavenger hunt), Kia (allowing users to customize a Stinger car and see it in their own driveway), Asus (a virtual unboxing of one of its smartphones) and Sephora (the ever-popular virtual makeup trial).
Stories get more features and could change how people share content
Through new partnerships with Spotify, SoundCloud and GoPro, users can share images and content directly from third-party apps to Stories on either Facebook or Instagram. More integrations are on their way, but the Spotify and SoundCloud integrations will allow users to instantly show followers an image of what they are listening to, while GoPro will allow users to share action shots they've taken from their camera – another announcement that might hit Snapchat especially hard, having just released the latest version of its image- and video-capturing Spectacles.

The company also said that WhatsApp status – the messaging app's own version of Stories – had topped 450 million users per day, which is well above the 191 million daily users Snapchat in earnings released earlier this week.

F8 also showed signs that ongoing behaviour change might mean marketers and advertisers need to rethink the ways they plan to connect with users on social platforms. Facebook's chief product officer Chris Cox said during his presentation that the story-style format was on the path to overtake feed-style sharing (as users are currently accustomed to on Facebook) "as the primary way people share stuff with their friends sometime next year."