EQ Bank finds the fun in GICs
Fighting against larger competitors, the digital bank targets mid-career professionals in its second-ever campaign.
GICs can be boring.
EQ Bank didn't want to bore people by talking about the nitty-gritty of the investment option, says Bryan Dinh, the bank's director of marketing.
"We wanted to drive awareness," he says. "And we wanted to make it fun."
Since the digital and mobile-only bank doesn't have any physical branches, it couldn't just put up some signs in a window advertising GICs. Enter a pitchman, elephants and an exploding banana.
The first spot in a new campaign features a banana and jaunty music promoting a 3.36% interest rate for its five-year GIC (which has now gone up to 3.5%), while a second spot features a trio of elephants trying to get peanuts from the pitchman.
EQ Bank is a smaller fish in a sea of big digital competition from the likes of Tangerine Bank (a subsidiary of Scotiabank) and Simplii Financial (owned by CIBC). While EQ Bank's latest campaign promotes GICs, it also serves the purpose of general awareness for the "newer, smaller bank," says Dinh.
The bank first launched in January 2016 with a 30-second TV spot as part of its initial branding efforts. For its latest creative, EQ Bank opted to keep things consistent by using the same pitchman from the inaugural campaign. The two new 30-second spots also have a similar lighthearted tone to the first TV campaign. And once again, EQ has teamed up with Union for the creative, with Proof on public relations.
The new campaign, which launched May 7 and is set to run for about six weeks. The bank has also installed bright yellow ads with black text, echoing the colours of its logo, in Toronto's busiest transit hub Union Station.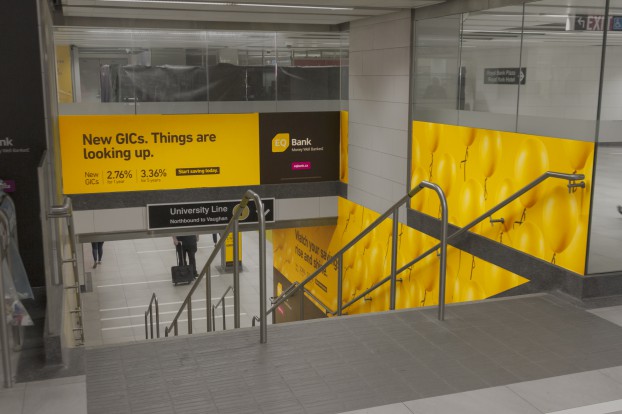 With this campaign, the bank is aiming to reach mid-career professionals and those 40- to 55-years-old, audiences that tends to consume a lot of news, sports and weather content, says Dinh. To reach that demo, the bank has placed ads on news radio, specialty television channels and financial publications. A print ad in The Globe and Mail is also bright yellow and plays off the iconic "Extra! Extra! Read All About It!" call of newspaper boys of yore, while ads have also been placed on Facebook.