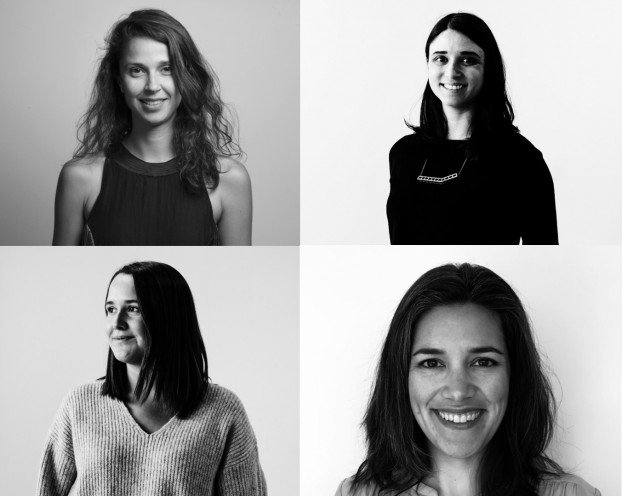 Huge Toronto's most recent additions, clockwise from top left: Mariana Nemer, Kareen Sarhane, Julie Gordon and Elaine Dickson.
Huge has some huge news: it's aiming to expand its Toronto office by 20% by the end of the summer.
"We're working on brand strategy and growing into areas we're not as strong in," says Allen Oke, ECD and interim Toronto lead. "That's what our clients want. They're asking more from us and they're asking us to be capable in areas we haven't been as capable as in the past."
There are currently about 55 people at Huge's Toronto office now, but ultimately Oke says it should be a "70 to 80 person shop." While there has been a trend in the advertising industry and beyond towards contract and freelance workers, Oke says the majority of the new hires will be full-time, permanent jobs.
"People who are working in the office on a full-time basis are more committed to each other generally and are generally more motivated to do right by others, not that contract workers aren't great for that," says Oke. "It's just a better team when everyone works for you day in and day out."
The agency, with offices in Canada, the U.S., Singapore and Colombia, is in the midst of a hiring spree in all of its offices. There are currently seven Toronto office positions and a whopping 25 positions advertised in its Brooklyn, N.Y., office on the agency's website. Huge's website says it's "the fastest-growing agency of the past decade" due to its "user-centric approach." The global growth is currently being lead by its new CEO Michael Koziol, who was previously international president at Huge. Co-founder Aaron Shapiro, stepped down as CEO earlier this year after 13 years with the digital agency.
The growth on this side of the border is coming as a result of doing more social-media work for existing clients, such as Harley-Davidson. The Toronto office has also picked up work leading business transformations for companies in the grocery, banking and sports retail spaces. While Oke said the new client list is "secret," he did say the agency is being tasked with tasks like working on e-commerce arms of retailers with existing bricks-and-mortar stores looking to get into the digital space.
"More and more we're being asked to do more business transformation projects with a digital layer. How do you sell this story in five to ten years now? How do you make the store match up with the online presence?" Oke says. "Those are the exciting projects – you're kind of a conductor of all these disparate instruments and you kind of make it all work together to make music."
Oke joined Huge almost one year ago and says he has greatly enjoyed being a conductor to a seemingly ever-expanding team. The agency added two new creatives in April and has made several other key hires in Toronto recently.
Mariana Nemer joins as a senior visual designer, and will work on a wide range of project including UX/UI, brand identities, packaging and physical spaces. Kareen Sarhane has been hired as a senior strategist, tasked with helping bridge consumer experience and brand planning teams to bring projects to market. Julie Gordon joins the physical design team as a design manager. Elaine Dickson joins as community manager, responsible for helping clients develop their social strategy.
Oke was made iterim lead for the Toronto office following the departure of managing director Paul Burns, who took on the role of managing director of Twitter Canada last month. Also leaving the agency last month was VP of client services Ben Tarr, who was hired as president of Leo Burnett Toronto.