IGA experiments with live harvesting
Customers familiar with the banner's "Frait du Toit" rooftop garden can now watch their produce being hand-picked.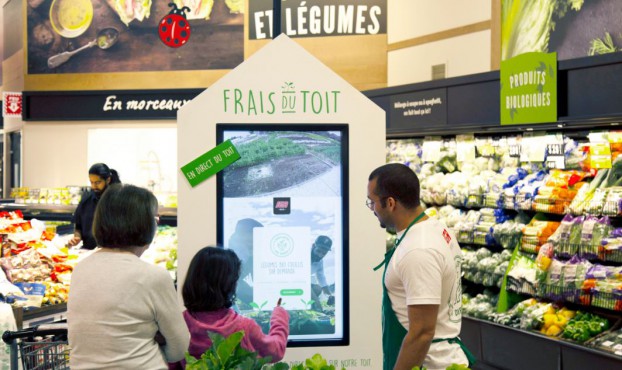 Last year, IGA redefined what it means to buy fresh produce in Quebec.
In what the Sobeys banner called "Frais du Toit" (meaning "Fresh from the rooftop"), a family-run store in Quebec grew a rooftop garden – estimated to be the largest organic garden in the country – and sold its yield directly to customers.
This year, the grocery chain is taking the initiative one step further, offering live harvesting to customers at the store, operated by the Duchemin family, in Ville Saint-Laurent, Quebec.
With the assistance of an in-store interactive kiosk, customers can select and add produce to their cart. The fruits and vegetables are then harvested by gardeners from La Ligne Verte, an urban gardening and agriculture company, and delivered to shoppers at the kiosk, who are invited to watch the entire process from a screen.
The activation, led once again by Montreal agency Cartier, highlights the focus IGA has placed on the freshness and quality of its products, says Carl Pichette, VP of marketing at Sobeys.
He says IGA customers were already expecting a rooftop garden experience to be available to them again this year, so it was important to find a way to "push the envelope." Besides, Pichette says, seeing the garden used in real-time could help quell the skepticism of those who questioned its existence last year.
The service is offered three days per week between the hours of 8 am and 12 pm. The chain has tentatively set August 15 as an end date for the program, but will consider extending it depending on external factors, such as weather and consumer response. Shoppers can pick from among 10 different items, which can change depending on availability.
The idea is to harvest the produce while it is at its freshest, says Pichette.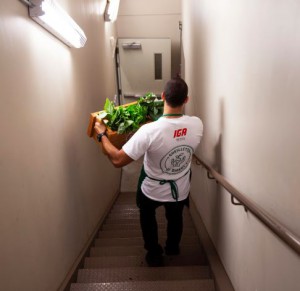 To promote the program, Cartier developed a video campaign (including unscripted footage of customers' experience at the kiosk), with assets running on paid and owned social channels over the next eight weeks. In-store marketing assets are also being deployed to catch customers as they shop.

Pichette says it became clear that having an IGA representative by the kiosk in order to inform and guide customers was important. Logistically, the company has aimed to have items delivered in customers' hands in under 10 minutes, and the only "real barrier" to its success are the 43 stairs dividing the rooftop from the main floor.

So far, sales from the rooftop are 10 times what they were last year, according to Pichette.

While no definitive plans have been made, he says the store may look to push the freshness envelope again next year, possibly by having customers harvest items themselves.

Across the Sobeys parent company, Pichette says it is currently looking at the feasibility of a couple of similar projects, but could not confirm the details.