Walmart's ode to parents
The retailer's new Canadian masterbrand platform aims to drive home the emotional side of saving money.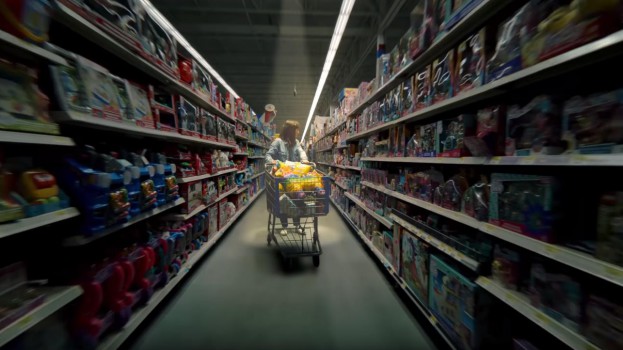 Walmart Canada is looking to translate its brand equity in "savings" into a deeper emotional bond with parents in a new brand platform.

The platform launched in mid-July with "An Ode To Motherhood," a three-minute long video where the initial joy and serenity of being a new mom is quickly interrupted by a rapid-fire series of stresses and expenses, from healthcare to clothes to food to putting on the perfect birthday party. The mom eventually gets the energy boost and support she needs when she finds herself in a Walmart.

A second spot, called "Now Playing," shows a dad watching his family as they sit in the same room, disengaged and immersed in their mobile devices. He makes a run to Walmart to pick up bed sheets and snacks, distributing the sheets to everyone in his apartment building, who then unfurl them off their balconies. The dad's family and their neighbours then gather on the lawn for an impromptu community movie night.

Camp Jefferson developed the platform and campaign spots on a project basis. Tammy Sadinsky, who joined Walmart as VP of marketing communications in March from Tim Hortons, says she wanted "fresh eyes" on this brief, saying the agency's size and agility "have been tremendous assets" in getting the campaign developed and into the market quickly.

"Parents' love for their families is limitless even though time and financial resources are not," Sadinsky says of the insight behind the new campaign. "We wanted to acknowledge this by telling their stories in an empathetic way. By saving, parents can have better lives, which ultimately means deeper relationships and experiences with their families."

Savings has been at the root of Walmart's brand and value proposition since it was founded, but that has typically been communicated in more functional ways. Sadinsky says the new platform is more emotive, driving home the connection between the functional benefit of saving money and the abilities for parents to provide a better life for their families.

"We looked to our brand DNA to refocus our strategy from securing share of mind to expanding share of heart," she says. "Taking care of families and providing everyone access to opportunity are priorities we share with all Canadians. This new masterbrand is meant to reinforce just how Walmart helps families live better lives."

The two spots released so far take a markedly different approach, with "Ode to Mom" being more fast-paced and tongue-in-cheek, and "Now Playing" taking a heartwarming storytelling approach reminiscent of recent emotionally charged creative from other retailers like IKEA. Sadinsky says the platform was deliberately developed so that it could tell a wide range of stories, while staying true to the idea of showing the emotional benefit of "saving" for families.

"The intent and the creative approach are similar in that they both tell the stories of Canadian families in a very real way," she says. "Every story is unique just like every family. Both spots are rooted in the firm desire for parents to build relationships with their kids and community, and to express how saving supports parent's quests to give their families the best possible experiences."

A third spot, dubbed "Windows," will be debuting in the near future. Sadinsky says the spot takes more of a traditional retail approach while still tying into the emotional benefit of a product, such as being able to save money on sporting goods to spend more time playing with kids.