HSBC revamps its airport strategy
The bank is using a new global brand identity to help support its retail goals in Canada.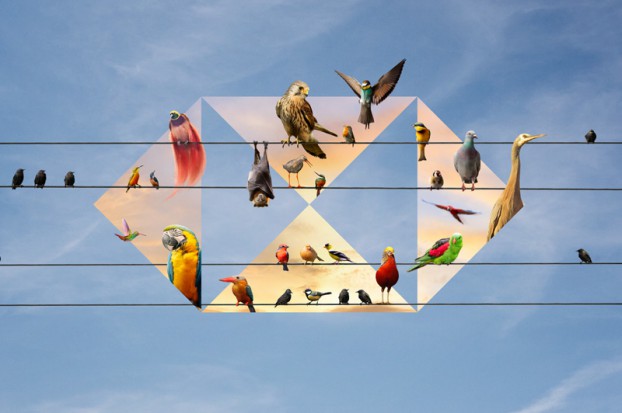 HSBC is one of the world's largest banks, but its share of voice in Canada is small compared to the big five, who outspend the U.K.-based bank on advertising, according to Cindy Wong, head of marketing for HSBC Canada.
While HSBC has no intention of outspending its competitors, Wong says it does try to "outsmart" them by being more clever and tactical in its marketing, admitting that doing so on a consistent basis can be a challenge.
Now, as it looks to ramp up its local retail banking activities in Canada – HSBC has historically leaned more heavily on the commercial side of its business – the bank is leveraging a new global brand identity and airport marketing strategy to build more resonance locally and earn a larger share of that voice.
Unveiled last month, the "Together We Thrive" campaign is running in five languages across nine different markets, and is expected to reach some 900 million travellers this summer.
The campaign features 80 versions of HSBC's revamped hexagon logo, designed by Saatchi and Saatchi's London office and appearing on assets covering 94 km of passenger walkways worldwide. Locally, the brand works with both J. Walter Thompson Canada and Saatchi and Saatchi's Canadian offices.
Wong says the global approach allows HSBC to deliver a consistent look and feel in its airport marketing (a passenger travelling from London to Vancouver will encounter the same brand identity on both ends of that journey), while incorporating creative elements developed for local markets.
The designs being used in Canada were also developed out of the U.K., but they contain visuals that are meant to be relevant here. Those appearing at Toronto Pearson and Vancouver International airports include images of the cities' old and modern skylines, emphasizing their recent growth, with colours that nod to their diversity. Both cities have been identified as key to HSBC's Canadian retail strategy, according to Wong.
Two other pieces of creative – one revolving around hockey, the other around Moraine Lake in Alberta – are running in Calgary and Montreal. All of them have the goal of showing how HSBC can help customers "thrive."

The fact that four of the campaign's 17 international airports are in Canada "emphasizes the priority of Canada within our global strategy," says Wong.
HSBC has has been marketing in airports since 2001, believing that "airports are great for telling people that we are the leading international bank," says Wong. Seeing as people often visit airports for travel, business or to visit family, "airports connect people to the world and opportunities."
The new work marks the first time HSBC has overhauled its strategy in three years. Previously,  it positioned itself around "Supporting Human Ambition." While that global positioning was an effective way of showing support for its customers, Wong says it missed the opportunity to create more salience in local markets.
"With global air traffic forecast to double to 14 billion passengers per year by 2029, airports will continue to be a pivotal part of our marketing strategy," said Leanne Cutts, HSBC's group head of marketing, in a press release.