Check it Out: McDonald's mountain-top drive-thru
A stunt for National French Fry Day also included the first dayparted Snapchat lens in Canada.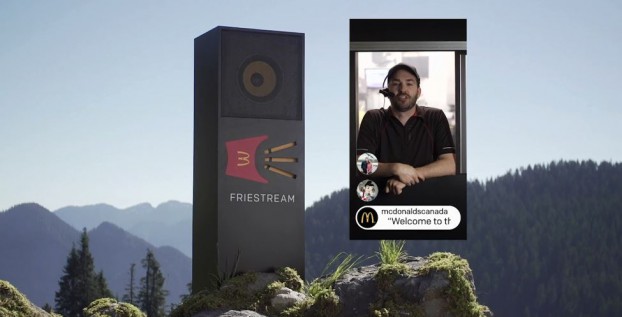 McDonald's Canada went to new heights to celebrate National French Fry Day this year.

To mark the occasion on July 13, the QSR and Cossette gave customers the opportunity to share their love for the classic menu item by placing a drive-thru speaker at the top of Grouse Mountain in Vancouver.

Dubbed the "Friestream," the activation incorporated the McDonald's mobile app by livestreaming a broadcast of social media comments and videos from people across the country who wanted to make their love of french fries known.

According to Cossette, the campaign engaged over 800,000 viewers via the livestream, helping it garner some 40 million media impressions.

The stunt included a Snapchat lens allowing fans to virtually share their love through a "volume trigger lens," which unlocked a surprise animation when users' shouts exceeded a certain level. It was also the first dayparted Snapchat lens in Canada, according to the agency, with the sky in the background changing depending on the time of day the lense was used.