Iceberg Vodka gets a new look
The Canadian-owned and made vodka brand plays up its roots to stand out in a crowded market.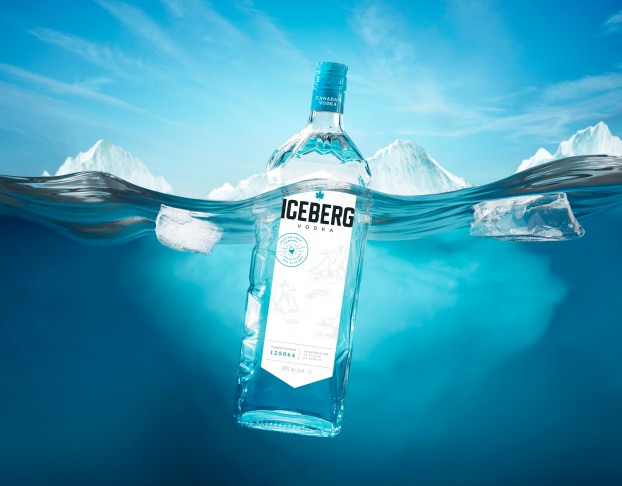 Walk into any liquor store and you'll see rows and rows of bottles holding litres and litres of vodka.
The clear drink was the second most popular spirit in Canada last year (taking 24.8% of the spirits category market share), right behind whisky (at 31.3%) and ahead of rum (at 17.1%), according to Statistics Canada. Spirits sales were up 3.2% year-over-year, rising to $5.3 billion during the year ending on March 31, 2017, according to StatsCan. And Iceberg Vodka hopes its rebrand will help it get a larger pie of that growing spirits pie.
"The vodka category is quite saturated, so how are we going to stand out at shelf? What's going to make us different?" asks Rachel Starkman, director of marketing and sales for Iceberg Vodka.
The Canadian-owned company worked with OneMethod over the past 18 months to come up with new packaging that would help the vodka brand stand out from its competitors, both on store shelves and in consumers' minds.
"We've been around for more than 20 years. The problem we were able to identify is people don't know much about us, so we wanted to do a better job of making sure people know this amazing and untold story," says Starkman.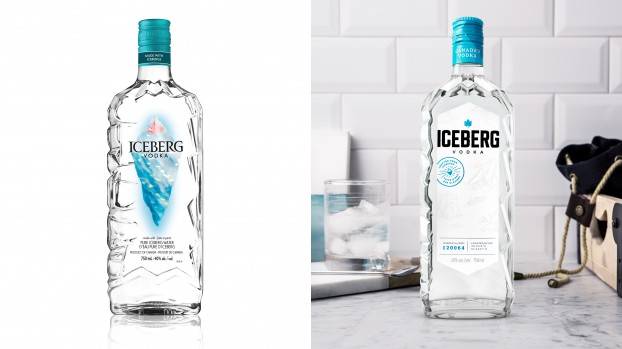 "Part of that is our old label [pictured above left , with the new packaging on the right] didn't effectively communicate fact that we are all Canadian and that we're made with iceberg water. Our objective was to really evolve the Iceberg Vodka label and brand identity that both represents who we are today, helps tell our story and I think generate a positive perception of our brand as a whole amongst the millennial crowd."

Iceberg Vodka has been sold in an iceberg-shaped bottle since its inception. The name and the bottle aren't gimmicks – the vodka really is made from water from icebergs. Every year, pieces of ice fall off icebergs and travel through what's known as "Iceberg Alley" near Newfoundland and Labrador, explains Starkman. In the late spring or early summer, an "ice cowboy" nicknamed Captain Ed and his team collect ice that is then melted down and mixed with a corn-based distillate to make Iceberg Vodka.

The new labels feature a drawing that brings this story to life. The labels also bare an iceberg number and list a longitude and latitude so consumers can look up where the ice in each bottle came from, says Starkman.

Research found that millennials, in particular, respond well to authentic stories, local products and Canadian-owned businesses. While the old bottle caps read "Made from Icebergs," the new caps read "Canada's Vodka" to help further underline the brands Canadian connections.

The new bottles started hitting shelves last month, in tandem with a new animated social media spot that weaves the unique tale of the vodka brand.

Iceberg Vodka already competes against other Canadian vodka brands, such as Polar Ice, as well as global brands like Smirnoff and Absolut. And soon, Iceberg will be among the alcohol brands competing against cannabis: a 2017 Deloitte study predicted there will be a fall in beer, wine and spirits sales after legalization on Oct. 17. Edible and other products infused with cannabis, including beverages from traditional alcohol companies, won't be legal until at least 2019, although many have been preparing to seize the opportunity in the new category.

"No one has a crystal ball so it's really hard to say what the 'competition' will be like. For the time being, we will remain focused on telling our brand story and helping consumers understand the true uniqueness and authenticity of the brand," says Starkman. "While we're always looking at ways to innovate and cannabis-infused vodka has been a topic of conversation, it's yet to be determined if, and how, Iceberg will participate in creating something of that nature."