Land Rover celebrates 70th anniversary with Grizzly Torque
A new film combines archival and modern footage of prominent Canadians travelling in the custom-built vehicle.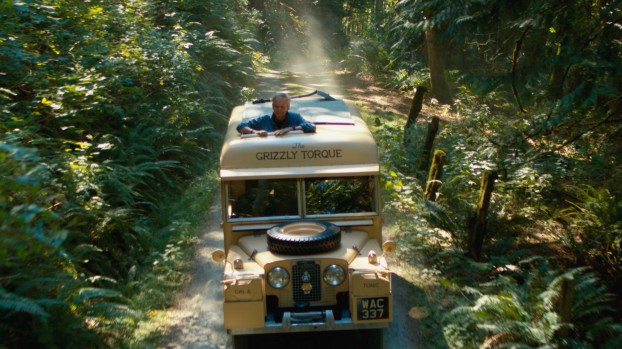 An around-the-world road trip undertaken by two prominent Canadians is at the centre of a new campaign celebrating Land Rover's 70th anniversary.

The campaign's three-minute short film chronicles the 14-month journey of artist and naturalist Robert Bateman and ecologist Bristol Foster across 19 countries in 1957. Bateman later became a well-known naturalist painter and was named an Officer of the Order of Canada, while Foster later headed up the Royal B.C. Museum.

The duo travelled in a custom-built Land Rover Series 1, nicknamed the "Grizzly Torque," which was thought to have disappeared until it was rediscovered in Merritt, B.C. in 2006. After learning about the vehicle's history, the Grizzly Torque was restored by its current owner, setting the stage for Land Rover to revisit Bateman and Foster's adventure in the new campaign.

Shot by production house Wonder Screen for Spark44, Jaguar Land Rover's dedicated global agency, the video combines new footage of Bateman and Foster inside their restored Grizzly Torque with archival footage captured by Foster during the original cross-continent trip.

The film is being pushed on YouTube and other social channels, and the vehicle's history will be further explored in a written feature to be included in the brand's owner's magazine, Onelife.

Land Rover began celebrating its 70th anniversary globally on April 9, and will be incorporating brand stories in its communications throughout the year, says Jeff Peel, director marketing and product planning at JLR Canada. Historically, the brand has aligned itself with drivers' passion for adventure, and vehicles like the Grizzly Torque present an opportunity to bring that brand attribute to the life, he says.

Peel met the Grizzly Torque's current owner around three years ago and has since been waiting for the right time to tell its story. He felt the anniversary could "do justice" to that story, while simultaneously showcasing some of the brand's all-terrain capabilities.

"You truly can't understand who you are as a brand unless you know your history, you know about what got you to where you are today," he says.

John Bastawrous, social media strategist at Spark44′s Toronto office, says three spots were created for other global markets that take a similar approach as the one featuring the Canadians. These videos feature Tim Slessor (of the Oxford and Cambridge Far Eastern Expedition), Gavin Thompson (who travelled in the British Trans-Americas Expedition Range Rover) and Bob and Joe Ives (of the Camel Trophy expedition).

Moreover, he says it's a story that aligns well with the local market, seeing as Canadians are "curious" travellers by nature. "This sort of celebrates that."

Spark44 is a joint-venture agency co-owned by Spark agency and JLR, making it easier for the brand to share assets and ideas across markets, according to Karen Hyman, business director at Spark44 Canada. The brief for the Canadian film was based on a template for Spark44 U.K.